Bad Moms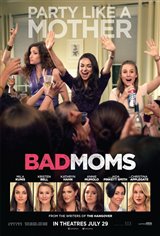 | 158 votes and 49 Reviews
Write a Review
Rotten Tomatoes® Score

58%
63%
Release Date:
DVD/Blu-ray: November 1, 2016
1h 41m | Comedy
---
Amy Mitchell (Mila Kunis) is a mother of two who puts her family first, but her childish husband, demanding kids and idiot of a boss are finally getting to her. One morning as she's making breakfast, she realizes the dog is sick. Now she has to take the dog to the vet in addition to dropping the kids off at school before getting to her high pressure marketing job.
When PTA Queen Bee Gwendolyn (Christina Applegate) at her kids' school tells her there's an emergency PTA meeting, Amy doesn't feel she can blow it off, so she makes sure to leave work early enough to make it. After an incredibly stressful day, Amy snaps during the meeting. She teams up with two other misfit moms (Kathryn Hahn, Kristen Bell) on a quest to free themselves from conventional responsibilities. They go on a well-deserved binge of freedom, fun and self-indulgence.
---