Christmas at Castlebury Hall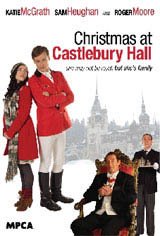 ---
Life isn't turning out exactly how Jules Daly (Katie McGrath) expected. She's struggling to make ends meet while working in an antique store and raising her orphaned niece, Maddie, 7, and nephew Milo, 15. Days before Christmas, she's laid off from her job and her car breaks down.
Prepared for the worst Christmas ever, the three finds things take a turn for the better when they're invited by the childrens' estranged grandfather, the great Duke Edward Huntington (Roger Moore) to spend Christmas at the family's Castlebury Hall. They're told he's ill, and wants to meet his late son's children.
When they arrive, they find their grandfather is not sick, and instead of being the warm, sweet old man they expected, is instead stuffy and distant. They also discover the reason why they'd never met him—he disapproved of their mother because she didn't have a title. The unlikely bunch find themselves coming together as a family for a very special Christmas.