Home Alone 2: Lost in New York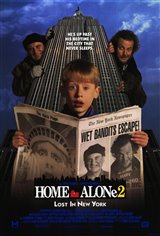 0 votes and 0 Reviews
Rotten Tomatoes® Score

32%
61%
Release Date:
DVD: October 5, 1999
2h 0m | Comedy, Family
---
Kevin McCallister's (Macaulay Culkin) family leave him behind again, only now he gets on a flight to New York instead of going with his family to Miami. Kevin manages to hail a cab and is delivered to the doorsteps of the Plaza Hotel, where, using his father's credit card, he rents out a suite and has the time of his life -- although a smarmy hotel clerk (Tim Curry) and bellboy (Rob Schneider) eye him with suspicion.
Ingenious Kevin keeps them at bay. He takes time out to chat with a friendly old toy-store magnate (Eddie Bracken) and pontificate to a homeless Pigeon Lady (Brenda Fricker) on the meaning of Christmas. But then he runs into his old enemies Harry (Joe Pesci) and Marv (Daniel Stern). When he finds out they're planning to rob the old man's toy store on Christmas Eve, he mans the battle stations once again, complete with electric prods, flames of fire, and a number of blunt instruments.