Karla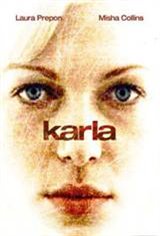 | 1568 votes and 45 Reviews
Write a Review
| | |
| --- | --- |
| In theatres: | |
| On DVD: | April 3, 2007 |
| Running time: | 1h 42m |
---
The true story of infamous Canadian convicted killers Paul Bernardo and Karla Homolka.

Every scene of the film was derived from events transcribed in court testimony using police reports, interviews between Karla and her psychiatrist, and videotape of the crimes shot by the perpetrators themselves. But perhaps even more shocking than the serial rapes and murders by Bernardo, is the question of how and why a woman could love such a man to the point of becoming his accomplice... in crimes which began with murdering her own sister?

As the gruesome events unfold, the utter lack of remorse from Paul and his quirky charisma paint a delusional world of normalcy for Karla, conflicted by her conscience but still unable to escape. But was Karla herself caught in Paul's web, a victim? Or did the fact that she joined him in his crimes in spite of having an apparent conscience make her evil even deeper than his?
| | |
| --- | --- |
| Director: | Joel Bender |
| Studio: | Christal Films |
| Producer(s): | Marlon Parry, Michael D. Sellers |
| Cast: | Laura Prepon, Mischa Collins, Tess Harper, Leonard Kelly-Young, Alex Boyd, Tony Denison, Cherilyn Hayres, Kristen Swieconek, Sarah Foret, Patrick Bauchau |
| Writer(s): | Michael D. Sellers, Joel Bender, Manette Beth Rosen |
| Official Site: | www.karlathemovie.net |
---