Mrs. Doubtfire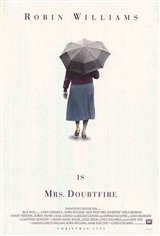 2 votes and 0 Reviews
Rotten Tomatoes® Score

72%
77%
Release Date:
DVD: October 5, 1999
2h 5m | Comedy
---
Daniel (Robin Williams) is an actor who dubs voices for cartoon characters. He's going through a rough time with his wife Miranda (Sally Field), who finally files for divorce. Daniel is deemed to be a bad role model and Miranda is granted full custody of their three children, with Daniel only seeing them once a week.
After finding out that Miranda is looking for a nanny, Daniel concocts a plan to make himself over into the best nanny the kids could have. With help from his brother Frank, a make-up artist, Daniel transforms himself into Scottish nanny Mrs. Iphegenia Doubtfire. Although he is able fool both Miranda and his kids, when both Daniel and Mrs. Doubtfire are invited out to dinner on the same night at the same time, Daniel is unsure if he will be able to keep his cover for much longer.