The Caine Mutiny (1954)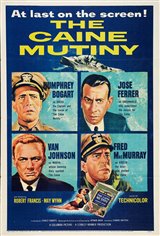 2 votes and 0 Reviews
Rotten Tomatoes® Score

92%
87%
| | |
| --- | --- |
| In theatres: | |
| On DVD: | December 15, 1998 |
| Running time: | 2h 4m |
---
Newly minted ensign Willis Keith (Robert Francis) is assigned to the U.S.S. Caine. Keith has an uneasy relationship with his skipper, Lieutenant Commander DeVries (Tom Tully), partly through his own ineptitude and as a result of his disapproval of the slovenly way DeVries seems to run the ship. He looks forward to the arrival of a new captain, Lieutenant Commander Philip Francis Queeg (Humphrey Bogart).
Queeg is a tough, no-nonsense veteran officer who turns the crew into proper sailors and the Caine into a tight ship, engendering resentment from some of the men and several of his officers. Queeg, a veteran of difficult years of service for too long, has insecurities about himself, his command, and his career that begin to manifest themselves as out-of-control spells of temper over small details that cause him to make mistakes.
Lieutenant Keefer (Fred MacMurray), the communications officer, spots signs of neurosis in the captain's behavior. Lieutenant Steve Maryk (Van Johnson) hears Keefer's suggestion that the captain may be mentally unbalanced, but does not entertain the thought until Queeg orders the ship turned upside down over pilfered strawberries.
During a typhoon that threatens to sink the ship, Queeg's inability to deal with the crisis at hand forces Maryk to assume command, with Keith's support as officer-of-the-deck, thus bringing about the court martial of the two officers.
| | |
| --- | --- |
| Director: | Edward Dmytryk |
| Studio: | Columbia Pictures |
| Producer(s): | Stanley Kramer |
| Cast: | Humphrey Bogart, Fred MacMurray, E.G. Marshall, Van Johnson, Lee Marvin, Robert Francis, May Wynn, Tom Tully |
| Writer(s): | Stanley Roberts |
---