The Towering Inferno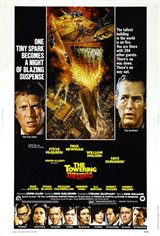 0 votes and 0 Reviews
Release Date:
DVD: March 9, 1999
2h 45m | Action, Adventure, Drama
---
During a high-profile dedication ceremony for the opening of the Glass Tower, the world's tallest building, all the tower's exterior lights are turned on to impress the attending guests and dignitaries. This overloads the electrical system and architect Doug Roberts (Paul Newman), who designed the building, orders it to be shut off.
Despite this, a fire breaks out on the 81st floor, and by the time the fire department arrives, the fire has escalated, trapping guests, including 294 people attending the ceremony on the 135th floor. An emergency evacuation causes a frenzy, and the San Francisco Fire Department has to race through time in order to save lives.