Why Don't You Just Die!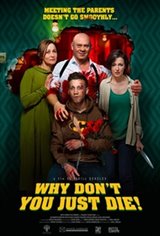 0 votes and 0 Reviews
DVD/Blu-ray: April 21, 2020
Digital: April 20, 2020
1h 39m | Comedy, Drama, Thriller
---
Matvey has just one objective: to gain entry to his girlfriend's parents' apartment and kill her father Andrey with a hammer to restore her honor. But all is not as it initially seems, and Matvey's attempts to bludgeon the family patriarch to death don't quite go to plan as Andrey proves a more formidable - not to mention ruthless - opponent than he anticipated... and Matvey, for his part, proves stubbornly unwilling to die.
| | |
| --- | --- |
| Director: | Kirill Sokolov |
| Studio: | Arrow Films |
| Producer(s): | Sofiko Kiknavelidze |
| Cast: | Aleksandr Kuznetsov, Vitaliy Khaev, Evgeniya Kregzhde, Mikhail Gorevoy, Elena Shevchenko, Igor Grabuzov, Aleksandr Domogarov |
| Writer(s): | Kirill Sokolov |
---