Amazing Grace - User Reviews
Thank you for rating this movie!
Read your review below. Ratings will be added after 24 hours.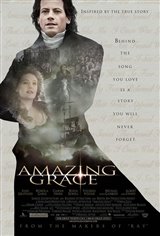 ---
Please rate movie 1 to 5 stars
Showing 1 to 34 of 34
December 15, 2008
Fantastic film. I enjoyed every minute. While doing the family geneology have found out William Wilberforce is my 5th Great Uncle, now that was a great surprise
May 12, 2008
Amazing Grace is all ways favorite, and Romola is on my favorites list also, mainly because God fearing ways always stand out from the crowd.
November 17, 2007
"Amazing" indeed!! The story is presented perfectly with restrained passion instead of lurid violence. Moving, inspiring, life-changing.
November 14, 2007
passionate, forceful and a great redition of true historical facts without the flash of hollywood.
August 18, 2007
best ever
July 29, 2007
really well done example of a story driven movie - no green screen, just actors and real emotion and stories. A time in history when we can be proud of the men and women who stood up to the wrongs in the world.
July 28, 2007
it looks amazing! i cant wait to see it! its amazing to be able to witness something that huge and revelutionary
June 09, 2007
Great movie
May 26, 2007
Excellent movie, well acted, convincing sets. Thank God that Wilberforce & Pitt through perseverence challenged the vested interests to abolish slavery. This is a movie with an intellectual and spiritual content. Will buy it when it's available on DVD.
May 07, 2007
This is an inspiring movie about a great man. William Wilberforce freed the British Empire - including Canada - from slavery 5o - 60 years before the United States achieved this goal. Anybody with a brain, will be entertained. Amazing!!!
May 01, 2007
A great movie about people Freedom. Nowadays all the countries don't have slaves but please think a moment! There are a lot of them in our world where people can not choose their religion like Middle East countries, China, North Korea, Cuba, etc. We should help change this situation. If you can not choose your religion so you are not free.
April 30, 2007
Outstanding movie with good values.
April 26, 2007
i think that you did a really good job. you should be in alot of other movies aswell other than this. you should be in pirates of the carribean 3. instead of kiera knightly. you will always be bett er than her.
April 25, 2007
Amazing how one man can make a difference and did! And Mr.Fantastic Ioan Gruffudd convinced in the lead witout a doubt. He'll go far - no contest
April 22, 2007
Most amazing movie should definitely be shown in all educational centers. Both the story as well as the example that if you think you can, you will succeed. Succeeding is real hard work and determination.
April 14, 2007
Don`t miss it...This was the best movie I have seen in years. Sitting in complete silence, no one left the theatre for a very long time after the credits started rolling because the audience was absorbing the power of it`s message. A truly wonderful movie.
April 14, 2007
Smart, well acted.....entertaining.
April 12, 2007
Amaizing ! It was fabulouse !! sort of confusing...if you are younger than 10 or 12 ..but really good..it shows the slave trade without violence ! ( witch is pretty hard to do )
April 11, 2007
Great movie! Everyone needs to be reminded of what some brave people did "way back when" to get us to where we are today! I thought it started out slow but ended up loving it! Schools should be taking their students to see this movie, we should all be taking our kids.
April 10, 2007
Excellent acting,historically enlightening. Proof that a nation that rules the world can be changed without a Civil War. God truly does move in mysterious ways. A MUST SEE movie for anyone with brains.
April 08, 2007
This was an outstanding film, well presented.How we need our political representatives to take a lesson from being willing to put their career on the line for issues that are undermining our society. We were spell-bound through out the entire showing.We could do with more of this kind of movie dealing with issues. A.Morris and Morag Russell
April 07, 2007
it was the worst movie made in the whole world!!!!
April 07, 2007
a very interesting movie, even though you knew what the outcome was going to be it still came as a great ending and the acting was superb especially Albert Finney and the stirring rendition of the title song at the end left you breathless LN Alberta
April 06, 2007
I tend to get board watching dramas but not this one. It kept me engaged and I enjoyed it. I will buy it when it comes out on DVD.
April 06, 2007
A truly entertaining and historical story about Englands greates moment.
April 02, 2007
Amazing!! We need more politicians with such courage, commitment, conviction,faith, determination and perseverence. That is how democracy is supposed to be - by the people, for the people and of the people!
March 31, 2007
An Excellent period, factual movie that brought to light a lot of things in World history or more particularly British history with some fantastic portails by superb actors.
March 30, 2007
I was totally inspired by this movie!
March 30, 2007
Awesome movie about how one man can and did change the world!
March 29, 2007
Saw this film today, amazing story, one to insprire still after so many years, all the actors both major and supporting helped to make this film a `must see`.
March 28, 2007
An excellent movie beautifully crafted and enacted. Definitely a must see film. It should be a prerequisite for all students. The story supports that a small minority for good can succeed in the face of corruption and apathy. At the end of the movie the audience sat silent for several minutes- a just tribute. Good representation of the period and English common law. My friends and I barely restrained ourselves from clapping and cheering when the aye vote to abolish slavery came through. I will be seeing it again as it is the best movie I have seen in a long time.
March 26, 2007
This is a great true story and a great film. More people should know about this great man in our history and we need more people like that in our society today. So go enjoy a great movie and get inspired and educated at the same time.
March 23, 2007
Excellent story and script. Film resolution was a bit grainy.
March 23, 2007
it was a boring movie