Anchorman 2: The Legend Continues - User Reviews
Thank you for rating this movie!
Read your review below. Ratings will be added after 24 hours.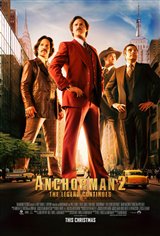 ---
Please rate movie 1 to 5 stars
Showing 1 to 44 of 44
May 06, 2014
funny follow-up to the original.
March 24, 2014
Very funny movie! Excellent cast that knows where the buttons are and pushes every one. Obviously some people didn't understand the humor in some parts and that's fine. I can't wait to see it again.
February 27, 2014
Another classic. If you liked Anchorman, you'll love Anchorman 2. First hour is probably some of the best comedy I've ever seen...laughed non-stop. Admittedly, the ending is bad but you don't go see a Will Ferrell movie for the plot. Loved it...the one-star people are those that shouldn't be watching Will Ferrell in the first place.
January 21, 2014
By Odin's Ravens! This is an insane, warped movie, and I loved every minute of it! Anyone who saw the first movie and loved it should have their minds blown by the sequel. I don't know if there are any plans for a third installment, but if it's as exponentially as funny as #2, it will probably lead to several deaths from ruptured spleens due to laughing too hard. Cannot recommend this enough for TRUE fans of Ron Burgundy. Anyone who disliked it obviously didn't understand what they were signing up for in the first place.
January 20, 2014
Terrible movie with an unlikable lead. His change of attitude in the end does not make him more enduring. The only thing worth watching in this huge mistake of a film is the flood of cameos that appear for the park fight scene. That was a nice treat to turn this sour experience into something bordering tolerable.
January 17, 2014
Worst movie I have ever seen!! Should have cut about 70 minutes out to make it bearable...
January 16, 2014
Pretty good, not as good as the first but still good, not something i'd be in a rush to see again though, worth the watch for sure especially if you saw the first one
January 15, 2014
Great, funny
January 15, 2014
Great movie good job.....
January 12, 2014
This movie does not deserve any stars, complete waste of time (not funny),
January 12, 2014
Funny from start to finish. If you don't have a good sense of humour don't watch it, you'll be like all other 1 stars.
January 10, 2014
Big Will Farrell fan. Although there were a few hilarious scenes, there were too many lame parts in between.
January 09, 2014
Scraping dog poop of your shoes is a better use of time than this so called comedy.
January 08, 2014
By Odin's beard this is the GREATEST MOVIE EVER!!!
January 06, 2014
This movie was very stupid. I cant believe I lasted 90 minutes before walking out. Save your money and see something else.
January 04, 2014
walked out
January 03, 2014
Who cares about the 2 stars...They are 100% wrong. This movie is SOOOO worth every penny
January 03, 2014
its really really funny its just a great movie to watch.
January 01, 2014
Not good... and loved the first one.
January 01, 2014
Going really good - funny - getting to the heart of it - go ahead, let a moron look like a genius for 15 minutes *cough* Anderson... and the satirical knife gets turned away in the end. Probably the studio neutered the script. A couple of laughs, but I wish I hadn't also bought popcorn and a drink. Loved the personality of the characters, they made me smile.
December 31, 2013
Lots of sequels fail miserably but this one was well done with some fresh material and characters. Some good laughs!
December 31, 2013
Outstanding! I want to see ANCHORMAN 3 next!
December 30, 2013
Nothing compared to the first one! Total crap!
December 30, 2013
This movie was plain bad. It kind of reminded me of "The Master of Disguise" ( I think I still can't get over it:)), I just wish I can take back 2 hours of my life. Please don't waste your time on it.
December 30, 2013
This movie was not good, lame jokes, poor acting, lousy plot. I've got to stop believing in movie hype.
December 29, 2013
Not since "the heat" has there been a comedy that was so shockingly unfunny. Think i'm kidding? No one was laughing in the theater for this piece of junk. You've been warned.
December 29, 2013
Love it. I walked into the theatre knowing what to expect and i got every bit of it. So funny.
December 28, 2013
Wanted to walk out about seven times during the movie
December 26, 2013
Please don't waste three hours of your life!! horrible! so disappointed! no story line! Not funny! Don't let the famous actors fool you!
December 26, 2013
Absolutely terrible movie. Despite the poor reviews, I went anyway. I should have listened. This is 3 hours you will never get back.
December 26, 2013
This movie was so funny and fun. Will Ferrell and the cast of this movie did a good job. I am glad that it was the same resminlance as the first one. I am glad that Will Farrell did a second one to Anchorman. I would watch this movie again and again. Screw of what the haters say... if you guys want to see the movie then go see it for yourself don't listen to others because they don't know what they are talking about. The ones who hates this movie needs to go back to school and learn what is a good movie out there. I watched lots of kinds of genres. Will Ferrell knows how to produce a good anchorman movie. Way to go cast.
December 25, 2013
Save your money.......
December 25, 2013
Will Ferrell really can't headline a movie. Another good try and fail.
December 24, 2013
holly moly its nothing like i thought it would be really not good
December 24, 2013
Love it
December 23, 2013
This has to be the worst movie I ever saw, please save your money and don't go to see this movie, don't even see it when it comes out to dvd.
December 23, 2013
It was great.......funny as hell
December 21, 2013
Many laughs
December 21, 2013
This movie was horrible. WF is so desperate for a hit movie that this just plain sucked.
December 17, 2013
I am sure when WF looks at his bank account, he will not care if you like his "bad acting"
December 17, 2013
I love how some donkey gives it 1/5 before the movie even comes out. Comedic acting is harder than dramatic acting, any actor will tell you that. Ron Burgundy is nowhere near any other character Ferrell does. Luckily for everyone your opinion is meaningless.
June 19, 2013
can't wait!!!
June 08, 2013
Will Ferrell admittedly is a funny person but he has only one character when he acts. Let's not celebrate bad acting any more.