Casper - User Reviews
Thank you for rating this movie!
Read your review below. Ratings will be added after 24 hours.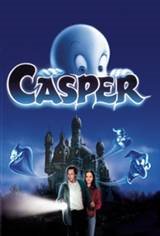 ---
Please rate movie 1 to 5 stars
Showing 1 to 20 of 20
July 24, 2008
DEVON SAWA ROCKS
October 12, 2006
casper is one of the unforgettable movie i watched! its a sensational!
June 04, 2006
i think casper is tttttttttttthe coolest movie i everrrrr seen
May 22, 2006
Very-very-very-very-very important cinema!!!!! I like it!!!
February 03, 2006
casper is a very loyal ghost and the movie gives good examples
December 21, 2005
It was one of the best movies!It was cute.funny,the whole movie was nothing but fun!!!It was touching,and the graphics were wonderful!The ghostly trio were a riot,Kat(Christina R.) was good,the doc(Bill P.) was funny!It`s a halarious movie,fun for the whole family!!!
November 18, 2005
it made my cry and im guy !!!!!! it is my fav movie !!!!!!
October 23, 2005
gasper the movie rocks
September 26, 2005
Casper is a hot boy when he turns into a real boy, i wish Casper was my friendly ghost.
August 12, 2005
It`s a beautiful, but sad story, in which you should learn to not take life for granted because you never know your future..
March 21, 2005
I`m a no. 1 fan of casper... he is very cute when he became man... no matter what happens casre is my favorite movie...
March 17, 2005
casper is so fit wen he is a boy
February 15, 2005
Terrible, corny and predictable
February 01, 2005
I love cat and casper very much....
January 26, 2005
Casper is a selfless and loyal frined. He`s my hero. He`s what most people can never be- generous, loving, innocent and well intentioned.
January 03, 2005
When Casper turns into a boy hes a ~HOTTIE~!!!!!woooooooooh
December 13, 2004
I love Casper and I love the wonderful house ,if there where just some way I could visit. It`s beautiful, wish I had detailed set material about it like a giant movie book to enjoy always.
December 10, 2004
j`ai adorer casper, j`ai30 ans mais je reste malgrer tout un enfants, la première fois que j`ai vu casper j`etais au ange, j`avais la larme a l`oeil pouur ce petit bout de fantome si tendre
October 25, 2004
SUCH A SWEET GHOST I LOVE TO HAVE ONE CASPER WITH ME AS MY FRIEND.IT`S MY DREAM.BUT I DONT NO WHETHER IT WILL BE FULFILLED
October 21, 2004
CASPER IS MY ULTIMATE HERO!!!