Catch and Release (2007) - User Reviews
Thank you for rating this movie!
Read your review below. Ratings will be added after 24 hours.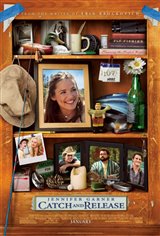 ---
Please rate movie 1 to 5 stars
Showing 1 to 29 of 29
February 22, 2008
sad and boring - not a good combination
May 29, 2007
I loved it. It was amazing Timothy is sooo HOTT!!!!
May 20, 2007
a really really good movie that everyone needs to watch
February 14, 2007
It was heart-warming, and charming. I would buy it.
February 14, 2007
How did people not get the storyline? its pretty straightforward and was a lot more realistic than most romantic-comedy-dramas are. Bravo for finally putting a movie out that was about real life events that the average person can relate to.
February 11, 2007
just plain bad
February 11, 2007
I just love Jennifer Garner and in this movie she was amazing i mean she made you laugh and cry she held the whole movie together. I`d go see it if i were you!
February 10, 2007
GREAT MOVIE!!! Loved the comedy, although the ending was not what I expected.
February 10, 2007
Not Good.
February 10, 2007
This movie was GREAT!
February 07, 2007
Somewhat disappointing...this movie was in production forever and yet the end product seemed to have been haphazardly rushed to print. The entire storyline was given away in the trailers and did not elaborate too much beyond promo. Kevin Smith needed to tone it down a bit but strong performances from Jennifer Garner and Timothy Olyphant saved this film from being a complete write-off.
February 06, 2007
Loved it!
February 06, 2007
GARBAGE MOVIE! WORST MOVIE EVER!
February 04, 2007
FINALLY A ROMANTIC COMEDY THAT THROWS IN A GOOD DEAL OF REALITY. THE FAIRYTALE-NEVER-GOING-TO-HAPPEN-JUNK WAS LIMITED AND WAS A FULFILLING SHOW. TIMOTHY OLYPHANT DESERVES SOME CREDIT.****
January 31, 2007
realistic.. reminds us of what life for some people really is like
January 31, 2007
Kevin Smith stole this movie!!! What a charmer Catch and Release is - a perfect Sunday afternoon feel good movie. Great work by all!
January 30, 2007
ok.........this was the worst movie i have ever seen!!!! these people that are saying it was good. must be on something!!!!!!!!!!! i syiol don`t know what the movie was about!!!!!!!!!!
January 29, 2007
Ok. I hope this review will help you "Should I go see this movie or not". First I want to say that I love Jennifer Garner but she should have not act in this movie. The movie basically sends a message "it`s ok to sleep with everyone" and that message is very stupid. I didn`t like this movie. It was funny at times because of good actors but the story was pretty lame.
January 28, 2007
i think this movie was more realistic that other movies of the same type.Jeniffer Garner play a real good role and i liked her character.
January 28, 2007
Just loved it.(so did the people I went with) Got what I asked for and more. All very well developed and interesting characters. Wish I hadn`t seen it already so I could go afresh and love it all over again.!!
January 28, 2007
Well, This movie was very sad, a good few laughs but nonetheless, it was a great movie. For all people who like chick flicks this movie is awesome for it! 2 thumbs up!
January 28, 2007
Poor script and acting. Looked like it coule be cute but it was not at all. Save it for a rental...if that.
January 27, 2007
I really enjoyed this film. Nice characters, with flaws of course. It`s nice to see a flic without blood and guts being splattered everywhere. I believe Jen Garner is a great talent...a lot transmitted in her eyes. Good turn by Juliette Lewis.
January 27, 2007
I thought this movie was really good it was more realistic and satisfying then most comedy and dramalike romances and you actually care about the characters and it`s not all about flashy cars and mansions it`s about absolutely real things that can happen in real life. 5/5
January 27, 2007
this was the best movie i have ever seen!!! ur gonna cry ur eyes out...but you will love it none the less! <33
January 27, 2007
Garbage. Don`t waste your money. Terrible script, not one funny line. It`s sad when you have a character resort to slapstick food gags to try and induce a laugh. Kevin Smith is beyond annoying...he really ought to go away for awhile. After the success of 13 Going on 30, Jennifer Garner grossly miscalculated this one.
January 26, 2007
i thought it wasn`t very good. sorry.
January 26, 2007
nice feel good movie. Bring kleenex
January 26, 2007
it was the best movie i have ever seen i thought it was funny and romantic and much much more i think every woman should see this movie!( i cant wait till it comes out on DVD)