Cats & Dogs: The Revenge of Kitty Galore - User Reviews
Thank you for rating this movie!
Read your review below. Ratings will be added after 24 hours.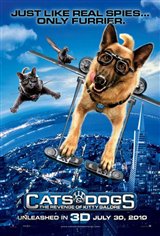 ---
Please rate movie 1 to 5 stars
Showing 1 to 50 of 60
January 31, 2011
the kids loved it, with a few funny parts for the adults
November 15, 2010
enjoyable
November 12, 2010
Fun if you love talking animals and 3D!
November 09, 2010
agree, its a great family movie, even adults will enjoy Cats & Dogs!
November 06, 2010
good family movie
November 04, 2010
Love this movie!
November 02, 2010
not the greatest movie, more for the little ones. The first movie was better.
November 02, 2010
execellent
October 28, 2010
feel good, friendly movie
October 12, 2010
Nice animation, good story line, nice plot twist. didn't entertain the parents in the audiance
October 08, 2010
Good family movie
October 07, 2010
cute movie
October 07, 2010
I love the Cats & Dogs movies and agree with everyone here that they're great family films! Enjoy!
October 06, 2010
This is such a charming spin on a Bond film for the family
September 24, 2010
It was good!
September 19, 2010
there's something about a dog in a suit with Neil Patrick Harris' voice that I found really funny, also, my kids really like this movie and unlike most kids movies, I didn't want to get up and leave in the middle.
September 13, 2010
absolutely hiliarious
September 12, 2010
Good kid's movie, pretty good for adults too.
September 07, 2010
really good movie
September 03, 2010
awsome movie animal movies are so cute
September 03, 2010
Great Family movie my daughter really liked it she's 7.
August 31, 2010
very enjoyable family movie
August 30, 2010
Great for kids under 12. Not as adult oriented.
August 29, 2010
The first one was better.
August 29, 2010
Loved it! Great sense of humour.good the whole family.
August 27, 2010
this movie was so funny-especially the beagle in the sweaters!!!!
August 27, 2010
it was ok...I found it a little slow at parts
August 25, 2010
fast paced and entertaining
August 20, 2010
it the cuties moive and the 3D was good in it
August 19, 2010
Cute movie!
August 18, 2010
great family movie had us all laughing hard
August 18, 2010
The kids and I loooved it! The whole thing had the whole theater lauging! Great family movie
August 16, 2010
Cute movie...for kids.
August 16, 2010
Funny movie, great for the kids, not very much in the line for adults though. It had funny parts but I was getting bored about halfway through. Graphics were good and characters very likable.
August 15, 2010
The characters were all very interesting and the story line was pretty good as well.
August 15, 2010
Entertaining!!!
August 14, 2010
The funny parts weren't really funny, but the climatic battle at the end made up for that. 3 Stars
August 13, 2010
great story line & very funny
August 13, 2010
My daughter just loved it.
August 13, 2010
a good family and animal lover moive!!!!!!!!
August 13, 2010
an ok movie in 2d but better in 3d.
August 12, 2010
Cute movie, good for kids
August 10, 2010
Very boring movie
August 08, 2010
Oh so boring! This movie was a real sleeper. It needed more people and a story line that included people. In the begining and the end you get that connection, but most of the movie was a bore...
August 05, 2010
better than 1st one
July 30, 2010
Hilarious family movie! Loved every minute of it.