Dawn of the Planet of the Apes - User Reviews
Thank you for rating this movie!
Read your review below. Ratings will be added after 24 hours.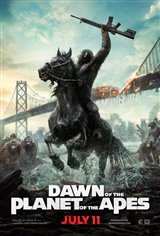 ---
Please rate movie 1 to 5 stars
Showing 1 to 25 of 25
February 02, 2018
My personal favorite of all three in the series. The conflict between idealistic Caesar and bitter and hateful Koba is even more interesting than conflict apes vs. humans. There´s a big, big tragedy in the relationship of these two friends, later turned into enemies. Koba isn´t the real villain here. He is rather the traumatised victim. "Human work!" scene is overwhelming. Then when he steals the weapons from foolish people while playing normal dumb chimp it is priceless! Post-apo town looks amazing. When the apes come there to tell humans to not come back to the woods, or when they attack in the night, we know the days of humans are counted... There are no simply black or white characters, everyone has a good motivation to do what they do, and the fact they have a good reason and can´t do it different way and the conflict just has to come is the most powerful and tragic about all of it.
January 01, 2015
It's okay. Honestly I turned it off about three quarters of the way through. I figured I had given it enough of my time. Special effects were great but not nearly as good as the first one.
December 13, 2014
Not quite as good as some of the earlier Planet of the Apes movies, but I'd give it a 4.4 out of 5. Highly recommend, yet it's just not quite a legendary 5 out of 5.
August 28, 2014
wow one of the top movies of the decade
August 07, 2014
Excellent Film. Watch Rise of the Planet of the Apes first. These two films make up for Mark Wahlburg remake back in 01.
August 03, 2014
What a bunch of dreck! It made no sense whatsoever. The people in San Francisco would have got those guns years ago. And the apes could see lights in San Francisco. They would see fires. And know the humans were there. And then moved away. Sigh.
July 31, 2014
Well worth seeing,all about survival and betrayal.
July 30, 2014
very good movie! worth the watch.
July 27, 2014
Too long....... very very disconnected scenes/ story lines. glad when it was finally over.
July 25, 2014
a must see movie!
July 23, 2014
This movie is awesome. The story line for once is excellent as is the cinematography. This is a must see film. 5 star.
July 23, 2014
The story line was great, the cinematography was awesome all in all one of the best movies iv'e seen in a long time. 5 thumbs up
July 21, 2014
4 1/2 stars. This is a must see movie. Something for everyone. I'm going to see this again in 3D, just to see if there is any room for improvement. Would have loved to see it at the Imax.
July 20, 2014
Without a doubt, the special effects are fantastic. The rest of the movie is way below standard, when compared to the first one. Too much character development and setting up for the next movie... Some really boring parts !!
July 20, 2014
Great balance of action with an actual storyline. The CG was spectacular on the apes. I really enjoyed the film.
July 19, 2014
Awesome! I'd put this right alongside Battle For the Planet of the Apes!
July 18, 2014
This is a terrific movie and continues the story beautifully! The ape CG is flawless. I have been a fan since seeing the original back in '68. It is amazing what they can do these days with special effects and the 3D was awesome. FYI...the 3rd movie - "Escape" ('73?) - occurs well after "Rise" and "Dawn" with respect to the timeline. These movies lead up to the events that occur in the original and the remake with Mark Wahlberg in 2001.
July 16, 2014
There already was a third movie, it was called ESCAPE FROM THE PLANET OF THE APES.
July 16, 2014
Thought it was kind of ho-hum. Glad we didn't waste extra on 3D, as the movie's scenes didn't warrant it. It was a pretty simple storyline, and the human actors didn't stand out and I just didn't think the film was as successful with apes as the main characters.
July 15, 2014
Great movie. Want to see a third already
July 12, 2014
Found this to be a great movie. Interesting to see just how society keeps breaking down terribly after an apocalypse like that. Would hope that in reality we would fare better
July 10, 2014
awesome movie! great depth of character for the apes. Interesting theme of the apes loosing their connection to nature and balance to be more human-like through infectious betrayal, hate and greed that lead to war. CG nature of the characters were flawlessly unnoticeable
July 05, 2014
I've been a fan of the originals so I'm really curious to see what this movie's take on the story will be. Hopefully it ties into the originals.
May 26, 2014
I cannot wait to see this movie!!! Love the first episode though