Eastern Promises - User Reviews
Thank you for rating this movie!
Read your review below. Ratings will be added after 24 hours.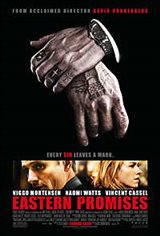 3.68 / 5
User Rating
Based on 2256 votes and 53 reviews
---
Please rate movie 1 to 5 stars
Showing 1 to 50 of 53
December 09, 2009
Viggo Mortensen is very believable as a Russian and an exceptionally talented actor overall. Didn't care for the graphic violence but the story and actors were awesome.
June 10, 2009
fabulous movie
July 23, 2008
I especially enjoyed the naked scene in the bath house. Viggo is hot!
January 31, 2008
horrible
January 19, 2008
The movie overall was very well done. I was impressed with the corregraphy of the fight scene along with a believable story line. Viggo deserves an award for his role. In my opinion all of the actors portrayed their characters in a manner where no one seemed inappropriate for their role. Well done!
January 06, 2008
A little predictable in places but a solid film about an interesting subject. Vigo was exceptional.
January 02, 2008
Excellent performance by Viggo Mortensen. I am Russian and its nice to hear an understandable version of Russian languge without reading the subtitles.
January 01, 2008
Excellent film. Different and a nice change up. Viggo does an outstanding job in his role.
December 31, 2007
Excellent!!!
December 30, 2007
One of the best films of 2007. Very engaging from start to finish, brilliant performances all around, it will definitly not be overlooked for an oscar.
December 27, 2007
Was a little slow at times. Great story, loved the characters. Viloence was over the top crazy. Thanks Cronenberg! Would recomend it.
December 18, 2007
5 Stars. Should get a few Oscar noms.
November 17, 2007
This movies was not what i expected (guns, gang fights and usual mafia scenes). It was chick flick meets the good sheppard. Overall it would be a good movie to rent if you like those kinds, but i wish i didnt have to pay to see it. Viggo is hot for an older guy, but if i was a man, and that small, I prob wouldn't be showing my goods on the "big" screen.
October 28, 2007
GREAT MOVIE!
October 27, 2007
I cnat believe peolpe like Vigor. He is nude in noe scenes and I was like Blood! Vigor I know you're acting skills vert much but I would like to get to no you. alWAYS, mugle.
October 27, 2007
I really interested in Vigor movie. Violence was more crazy it wsa awesome. I recommened this incredilbe flick.
October 23, 2007
I enjoyed this movie more than I thought I would. It's cold, moody and slow but you can literally feel the tension oozing from the screen. Viggo is the man for these type of characters. And Naomi Watts...sigh...what a beautiful woman!
October 21, 2007
VERY GOOD MOVIE. Well acted, especially Viggo, well directed and highly entertaining. While the violence is a little over teh top, it does mesh with the story and the ahrsh reality of the life certain characters in teh movie are in.
October 16, 2007
Entertaining but quite violent.Vigo is quite good and the film slows down in sections but overall woth seeing.
October 16, 2007
Interesting story but the violence was too graphic - The idea that ones fingers are being cut off is enough to gross me out; I don't need to actually see it. The father was excellent (his name escapes me) and Viggo, ahhhh, Viggo... One Woman's Opinion
October 16, 2007
Very long, slow and boring. The russian dialogs (or what's suppose to be dialogs) are hilarious! I laughed my heart out. They should fire the consultant before he started. Perhaps this is how people see russians - all they do is swear, drink vodka and f*ck. Any asp - java - c++ people around?
October 14, 2007
Amazing!
October 12, 2007
Best movie of the year. Brutal violence and an unseen twist.
October 10, 2007
Fantastic movie. Viggo, go get your Oscar.
October 09, 2007
This is Cronenberg's best movie. Viggo Mortensen was fantastic. "The" fight scene was....um....graphic.
October 08, 2007
A movie worth seeing. good twists, excellent writing
October 08, 2007
Intelligent and original, as always Cronenbrg is excellent in his creativity and choice of cast.
October 05, 2007
Great plot, but who likes to watch a naked man knife fight in a bath house - if you do, you will love this movie, however, if you are a heterosexual man, you may not - this is like Borat with more action and less funny, more blood and less Pamela Anderson, in fact none
October 04, 2007
Very disappointed. Was hollow and horribly boring.
October 03, 2007
A long and slow movie that has no meaning to it, but trying to portrait a meaningful movie. Do not waste your time and money.
October 03, 2007
excellent acting, realistic story with excellent action and very moving. simply great
October 03, 2007
Seemingly predictable, great story just a little two easy to figure out!
September 30, 2007
It kept me glued from beginning to end. Viggo Mortensen was outstanding! Worth going to see again!
September 29, 2007
excellent
September 29, 2007
This is a fantastic movie. The acting is superb, the plot is enticing and very down to earth. The reason i don't give this film a 5of5 is because by the end of the movie i truly wanted more.. i left feeling sort of cheated out of what could have been one of the most epic intelligent and mature gangster films. All in all an excellent watch, i would definately love to see david cronenburg do another.
September 29, 2007
Viggo was totally believable, never out of character and the storyline swept you along. Awesome Movie!
September 29, 2007
horrible movie, do not see this one!
September 26, 2007
I can bet they had Russian consultants hired :). Been Russian myself it was fun watching this movie but I have to admit that some of the things are very close to reality. Strong 4.5 - definitely worth watching.
September 26, 2007
This is one of the worst movie I've watch this year, or in many years. It was quite boring to the point that most people left the room before the film ends. I was patient and waited for the climax, but it never came. It earns a solid 1 star, if only I can give it a negative.
September 25, 2007
An awesome movie! Great actors and fantastic acting jobs by ALL! This movie is definitely a must see, but be prepared for some 'extreme' violence scenes.
September 25, 2007
One of the most thought-provoking films I've seen in a long time. Haunting imagery, atypical characters and very controlled acting. Definitely worth seeing. (Not for the squeamish.)
September 24, 2007
AMAZING
September 24, 2007
Good acting by Viggo, but I didn't like the storyline and it was very graphic. More of a movie for the guys.
September 24, 2007
excellent story, twist and acting. It is a mature film with a realistic non-Hollywood story. Deserves and oscar
September 23, 2007
Very well done! One of Cronenberg's best films. You must have no problem with violence and Russian accents to watch this film and enjoy it.
September 23, 2007
This was the worst movie I have seen in a long time - Extremely graphic, and an awful storyline!
September 23, 2007
Very slow moving story. "Most memorable fight scene" quoted from a film critic...but it's not memorable in a good way...
September 22, 2007
Great movie. The Godfather of the year 2007.
September 21, 2007
Definately one of Cronenberg's best. Personally thought History of Violence was better. But this was definately worth seeing, very powerful. popou :D