Enchanted - User Reviews
Thank you for rating this movie!
Read your review below. Ratings will be added after 24 hours.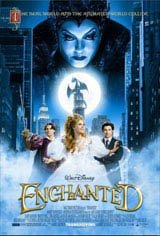 4.46 / 5
User Rating
Based on 4236 votes and 114 reviews
---
Please rate movie 1 to 5 stars
Showing 1 to 50 of 114
March 04, 2013
I love enchanted best movie ever????????????????????????
June 26, 2011
Great fun! This movie is going to make Anne Hathaway a star!
June 26, 2011
I must confess I thought it was poor.
January 26, 2009
nice and enjoyable two thumbs up!
January 25, 2009
an amazing movie!Best movie ever!If you have never seen the movi eyou should rent it and see it.
October 03, 2008
u guys rule this is ashley
October 02, 2008
so cute and so lovely!!
October 02, 2008
lovely movie
June 10, 2008
Less than enchanting and more than a little annoying. :(
April 18, 2008
my top 5 movies of 2007...
April 09, 2008
What a cheerful film!!! I loved it!!!
March 23, 2008
horrible movie, hated it, really stupid!!! this deserves worse than a on star!!!! wasted my time watching this movie and it was extremely bad!!
March 19, 2008
Great family movie! Great movie for anybody! Great plot and really funny! I enjoyed it very much!!!
March 13, 2008
A great film for the family and fairy tale lovers!!! So worth it!
February 17, 2008
This movie is so good it's really funny and I really enjoyed it.
February 10, 2008
this movie is reallllllllly good!!
February 03, 2008
Awsome!!! 4 stars.
January 26, 2008
absolutey amazing. loved it so much saw it 3 times. such a feel good movie.
January 26, 2008
its a horrible movie. It doesn't even deserve a star.
January 19, 2008
It was cute. And fun. Disney has finally produced somethin' half-decent for the 21st century, whoo~. I was really enjoying it, until... The last three minutes, and Carrie Underwood... Was singing... -shivers- The movie would've been close to almost perfection if her song wasn't featured. xx; Oh, and. Susan Sarandon was greeeeat~~.
January 13, 2008
Wow!! This was an excellent movie. It starts off with that majestyk vintage old fashioned fairytale setting then changes before your eyes. Changes to a real life fairytale and is really well put together. A 39 year old male took his 5 year old daughter and can honestly say this is one of the best movies he has seen in a long time. My daughter absolutely loved it and even Dad got to believing the happily ever after saying. Come on Dad's get out there and take your daughter or son to an amazing movie.
January 12, 2008
Really funny how she was way different then everyone else. Loved this movie and great songs.
January 11, 2008
This movie got it absolutely right. Fantasy, fun, humour and delightful plot. It was enchanting!!!
January 09, 2008
so funny!!! i thought it was gonna be cheesy but it was totally better then what i had expected! :D
January 07, 2008
WOW!!!!!!!!!! such an awesome movie
January 05, 2008
Great movie! Great actors!!!! Loved it!!!
January 04, 2008
this was an awesome movie.... i loved it! I would definately go back and see it again.
January 04, 2008
Great movie....Even my 10 yr old boy...who is all boy loved it!!
January 01, 2008
Loved it! Almost as good as a trip to Disney World!
January 01, 2008
This one was a pleasant surprise. Enjoyed the premise and the transition to "real life". Only possible with CGI. Amy Adams is enchanting. Worth the ticket. Great for tweenies and adults with an open mind for this type of genre.
January 01, 2008
On a scale of one to five I rate it a ten. I am
December 31, 2007
A great film. I took my kids to see it and found myself laughing and having a good time. Amy Adams shines and the rest of the cast are great too.
December 31, 2007
Enchanted is a really awseom movie!
December 30, 2007
This is the perfect fairytale! I loved it and so did my daughters! If I could drag my husband to the theatre to see it, I'd pay to watch it again!
December 29, 2007
It is a funny show which children and adult will enjoy.
December 29, 2007
A real feel-good movie - very cute and funny.
December 27, 2007
i think that you chose a wrong man to play the prince because there is a movie where he makes out with a man i am very disapointed
December 26, 2007
Wonderful kids movie and has something for the adults as well. Disney managed to pull a star film out of its back pocket, modern day comedy/romance with everything you would expect from a disney film. Great date/kids film. - The Methos
December 23, 2007
Very pleasant and enjoyable for everyone. Lots of children enjoyed it.
December 23, 2007
After watching Stardust, I was ready to be wowed by the high quality cast. But I was seriously let down. The movie is extremely cliched with a few comical scenes here and there.
December 22, 2007
A highly entertaining and very well-casted movie. It cleverly referenced old Disney classics like Snow White and Cinderella. Humourous and perfect for the hopeless romantic. James Marsden's vocals were stunningly impressive. Highly recommended.
December 19, 2007
This has become my new all-time-favorite movie! I LOVED it!!!!
December 18, 2007
funny stuff
December 18, 2007
Being the father of 2 young girls I was dragged to the movie and was expecting to hate it, however this is where I was wrong. Found it very humorous. People use the words cute and charming, I agree. Great movie for the whole family. Well worth the cost of admission.
December 18, 2007
I did not like the movie
December 18, 2007
This film is great.Very unique and one of the best from Disney.
December 17, 2007
greatt movie !
December 17, 2007
Great movie! Love Patrick Dempsey
December 16, 2007
the best movie of the year! cant wait for the dvd!