Friends with Benefits - User Reviews
Thank you for rating this movie!
Read your review below. Ratings will be added after 24 hours.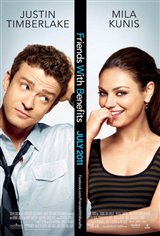 3.56 / 5
User Rating
Based on 590 votes and 145 reviews
---
Please rate movie 1 to 5 stars
Showing 1 to 50 of 145
June 11, 2012
an edgy romantic comedy though a bit predictable entertains.
December 12, 2011
Much better than I anticiapted. Works on numerous levels. Great chemistry between Timberlake and Kunis.
December 02, 2011
A bit corny, but enjoyable. Great chemistry between the two lead actors.
October 27, 2011
It was a cute movie - the chemistry was great between Justin and Mila... but it was sooo predictable... good for a rental.
October 27, 2011
Fast-paced dialogs didn't make this movie funnier and although it's a cool topic to make a movie about, I was disappointed by the actors and plot itself. BTW. Is there really a difference between >Friends with Benefits< and >No strings attached<...?
October 27, 2011
enjoyable
October 26, 2011
Very sweet - perfect chemistry with Justin and Mila
October 26, 2011
typical rom com with a catchy name
October 26, 2011
i wish they would stop making movies like this.
October 26, 2011
I was disappointed with this movie. It was lacking in good acting. Very boring. Justin Timberlake should stick to singing.
October 25, 2011
Exactly what it should be. With a lot of shots of naked bottoms. If you like that sort of thing.
October 25, 2011
Awful movie- did not enjoy the humour, nor the corny lines, nor the fact that a very similar movie came out with Natalie Portman 6 months earlier.
October 25, 2011
This movie was definitely one of the better ones to come out this year. Romantic comedies have a tendency to get sappy and follow a traditional story line. However here, Justin and Mila keep it young and fresh, all while dressed to impress. Seriously Mila looks incredible in this movie and her style is one of my fave points. The first half of the movie is funny, interesting, and definitely not what you would expect. The second half does get a bit cheesy but if you allow yourself, you will enjoy it. Friends with benefits plays on one of those ideas that we've all been thinking about but probably didn't want to bring it up! Perhaps a good movie to take a friend (a special friend?) to...!
October 24, 2011
Actually pretty funny! I usually like Mila Kunis, but Justin Timberlake was a pleasant surprise!
October 24, 2011
Although the movie was your typical rom com, I am a sucker for them so I found it quite enjoyable. Hilarious and cute at the same time. Mila Kunis and Justin Timberlake just make it so perfect together, loved this movie!
October 24, 2011
Hilarious movie!!
October 24, 2011
funny movie, again way to long for a romantic comedy. i much prefer no strings attached it kept my attention, longer than this one
October 23, 2011
Dreary remake of NO STRINGS ATTACHED. Kunis and Timberlake are no match for Portman and Kutcher.
October 23, 2011
SOOOO Funny. Me and my friend could not stop laughing. This is a must see.
October 23, 2011
Adult humour aimed at teens. Sad commetary on movie makers.
October 23, 2011
I quite enjoyed this light and fluffy movie.
October 23, 2011
Movie was pretty funny good movie to watch with your significant other
October 23, 2011
loved it!!!!!
October 22, 2011
This movie is a lot of fun. Thought it would be silly but all of us really enjoyed it.
October 22, 2011
I really liked this movie. It was funny, romantic & nice to watch.
October 22, 2011
I have to give this comedy an average rating. Although Mila and Justin seem to have good chemistry, the story line and dialogue just aren't good enough to make this a 4-star.
October 21, 2011
It was super funny! Great chemistry between the actors :)
October 21, 2011
I loved this movie. Funny and entertaining!
October 21, 2011
Good romantic comedy!
October 20, 2011
Very funny!
October 20, 2011
Movie was cute but slow. Nothing special in this romantic comedy.
October 20, 2011
A very funny movie! Living proof how having a friend with benefits could be beneficial to any lonely guy single or married!
October 20, 2011
movie was enjoyable and kunis and timberlake mixed well together on screen so if your into a funny love storey well LETS JUMP JUMP to it
October 20, 2011
truly happens in real life.... very funny... a must see movie...
October 20, 2011
Found it really quite funny
October 20, 2011
this movie was so funny..good way to brighten your day
October 20, 2011
Very funny, kept me laughing the entire time. My bf loved it too.
October 06, 2011
At times really funny...ant times realyl boring and predictable. However, Kunis is great, as usual. She's always worth the price of admission.
October 03, 2011
The chemistry between Justin and Mila Kunis saved this otherwise cliche movie. Because of them, the movie is ratehr enjoyable.
September 05, 2011
A perverse and vulgar world-view coloured by male neuroses -- equating loving women with emasculation and weakness. L.C.
August 26, 2011
most craziest movie ever
August 22, 2011
This movie was pretty lame, predictable and self-indulgent. Unfortunately, I saw as apart of a double-feature, BRIDESMAIDS, previously, and this one paled in comparison.
August 20, 2011
Cute summer movie. Some laughs some reality some fantasy.Not a Must See can wait for it on video, but good overall.
August 17, 2011
It was cute and had some funny parts but overall nothing special.
August 17, 2011
deffinitly a must seeeeeeeeeee!
August 13, 2011
Not at all like the trailer...sex sells I suppose. I was pleasantly surprised...good movie.
August 11, 2011
Sadly, a disappointment. Only 10% story line and far too much sappy sex scenes (90%). I strongly suggest that this is not the movie to allow your teens to view, it takes relationships in an odd direction and may be taken seriously by the young ones since Justin is one of the main characters. Unfortunately, I found it difficult to get a good laugh out of this one.
August 07, 2011
Damn, what a great and funny movie!!! NOT..what a terrible movie that was, geez hollywood, running out of ideas?
August 04, 2011
Great movie. Very modern and humorous for our time. The cast has very good chemistry.
August 04, 2011
This movie tries hard to be something it is not...funny and well scripted!