Fright Night - User Reviews
Thank you for rating this movie!
Read your review below. Ratings will be added after 24 hours.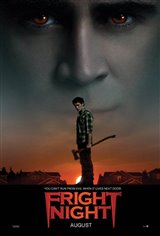 ---
Please rate movie 1 to 5 stars
Showing 1 to 49 of 49
July 16, 2012
decent movie with some creativity and good performances.
May 23, 2012
somebody in hollywood decided this was a good idea to remake???? omg....
January 30, 2012
good movie!! good scares, good action and farrell was born to play a horny vampire
January 12, 2012
I was pleasantly surprised at how much I enjoyed this entertaining thriller. Excellent cast and smart script.
January 03, 2012
Good movie, with lots of suspense. Ferrall is perfectly cast in this flick.
December 21, 2011
highly entertaining thriller....farrell is awesome as the vampire!
December 18, 2011
This movie was a big joke! I found the '80's original much better with better acting and better effects. I was hoping this would live up to the original, but the acting was awful, considering who stared in it. Too Bad! CGI and bad acting wreck it!
November 10, 2011
so scary
November 10, 2011
Good movie.
November 09, 2011
I prefer the campy 80's version.
November 07, 2011
Could have been gorier.
November 07, 2011
I already knew I was going to like this movie before I even watched it. Great thriller.
November 07, 2011
lots of silly fun
November 07, 2011
This re-Vamped (Pun Intended) is a fresh adaptation to the classic 80's original with a marked younger and hipper vibe. Yelchins' portrayal of Charlie is decent and is a likeable character, he fails to portray the true fear that William Ragsdale pulled off in the original. It goes without saying that Colin Farrels Jerry Dandridge is the sexy sanguinarian we would come to expect, however, eye-candy aspect aside, Farrels' portrayal is less suave and more sleaze while compared to the character developed by Chris Sarandon. The film is decent and does hit on several of the same points as the original, but for the seriour genre purists...it will leave a bitter aftertaste... wait for the DVD a
November 07, 2011
As a guy who was a teenager for the original in the 80's this was a pretty good remake. Lived up to the comedy/horror with more emphasis on the horror..I liked it!
November 07, 2011
It was an interesting interpretation but I still prefer the original. Overall, it was a decent movie with some great scenes that kept you on the edge of your seat. It's even better in 3-D!
November 07, 2011
Great slicing and dicing movie! Invite a friend over for dinner.
November 06, 2011
Decent movie. Kind of silly.
November 04, 2011
An okay Movie but cannot complain!!
November 03, 2011
great movie
November 03, 2011
alright...fun and collin is always nice to look at.
November 03, 2011
Quite scary at times, worth a look
November 02, 2011
Exciting!!
October 30, 2011
Not bad.
October 30, 2011
I gladly rated this movie at a four star, I really loved watching this movie.
October 29, 2011
A very exciting movie.
October 28, 2011
Good Remake. Farrell is definitely scary.
October 28, 2011
I think Colin Farrel does a greatjob in this movie and it is better than the original.
October 28, 2011
A good movie with both scary bits and funny bits. If you like vampires and Colin Farrell, then you should see Fright Night!
October 27, 2011
A good film that lacked the fluidity of the original.A must for all vampire movie fans.
October 26, 2011
mediocre, no better than the original
October 26, 2011
Colin Farrel is an awesome vampire!
October 25, 2011
Scary as all get out, worth the money
October 24, 2011
awesome movie, collin farrel makes a great vampire, super creepy guy and yet charming just a way a vampier should be solid remake!
October 23, 2011
good silly fun.
October 21, 2011
better than the original, that's for sure
October 20, 2011
a fun ride
September 12, 2011
I now sleep with cloves of garlic in my room. This movie scared me straight!
September 06, 2011
Awesome.Iloved this movie.
August 27, 2011
In the original, Jerry Dandridge was suave, seductive and even romantic. There was innocence and comedy. In the new Fright Night, there was pervasive animalism: swearing multiple times (the P & F words), Jerry's sniffing the air to locate prey and brutally attacking his victims. Have to admit, I prefer the original; I really missed the dance scene in the club between Chris Sarandon and Amanda Bearse. :)
August 26, 2011
oh my gosh!! best vamp movie ever thankyou for curing my twilight syndrome hot and hilarious!
August 24, 2011
Never saw the original, and normally not into horror, least of all vampire fads. But this movie was more fun than scary, and somewhat hilarious. Enjoyed it in 3D, most likely just as good in 2D.
August 23, 2011
I usually hate remakes with a passion. My wife and I really enjoyed this movie. It still paid respect to the orginal,but went off in its own glory.Thanks Colin for playing a true vampire.Hopefully this can cure people of twilight sickness.
August 23, 2011
Such a fad, vampire's now next it's guys wearing skirts. Plot was dull, shouldn't waste money just because you think someone is hot, and that in turn makes you see the movie. WASTE!
August 22, 2011
I was dragged to this movie and never expected to like it....but I did. He was so entertaining. Colin Farrel is one fine vampire and Dr Who's David Tennant stole the show.
August 21, 2011
A decent remake. I loved the original. Some awesome cameos.
August 20, 2011
A decent remake. Avoid the 3D at all costs - the film is too dark for the format and the 3D gimmick just doesn't work with dark images.
August 19, 2011
Good movie, interesting use of 3D with blood, but not scary at all
August 19, 2011
It was awesome!! They stuck pretty much to the original. Colin makes a very sexy vampire. Even Chris Sarandon from the original makes a cameo!!