Glee: The 3D Concert Movie - User Reviews
Thank you for rating this movie!
Read your review below. Ratings will be added after 24 hours.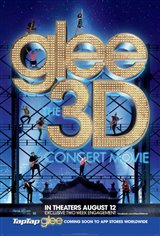 ---
Please rate movie 1 to 5 stars
Showing 1 to 20 of 20
January 26, 2014
They don't make music like this anymore; WHY? :(
January 25, 2014
This movie was amazing the songs were so good watch this movie
January 25, 2014
This movie was amazing the songs were watch this movie.
January 25, 2014
This movie was amazing. The song. We're so good Watch this movie
January 03, 2012
I'm actually a Glee fan but this movie was BORING! Some of the singing was good but overall the way the film was done was just lame.
August 25, 2011
wahhh, i didnt actually c it, why did they only show it on one day in calgary??? they should show it 4 a week at least
August 21, 2011
this movie is a great movie good songs ! love all the people in it
August 21, 2011
I enjoyed this almost as much as the Bieber concert film. What a show! Makes me wish I'd spent the big bucks to see this extraordinary tour in person, but WHO has that kind of disposable income? :(
August 20, 2011
This was a fun excelent movie to go and see. The music was great. The fan stories were inspirational. All in all it was a fabulous movie
August 19, 2011
The concert event of the millennium! Must-see!!!
August 17, 2011
Overall 3.5 stars. The concert portion and comments by Glee cast rate a 5 out of 5. But, there is simply WAY too much time wasted on interviewing the fans ...a minute or 2 would have been OK. It became more of a "preach-fest" than a concert movie. If you are a Gleek and didn't attend the live shows, see it, but be fore-warned
August 17, 2011
Finally, a movie EVERYONE can love!
August 16, 2011
If you're a Gleek like me, and didn't get the chance to see the Glee Live Tour, you'll love the 3D movie.
August 15, 2011
As another reviewer says, if you like the TV show, you'll love this movie/concert!
August 14, 2011
Warning if you're not a fan of the show then this movie is a total waste of money.
August 14, 2011
I never thought I'd see a better concert documentary than The Last Waltz, but this blows all other music films out of the water. I can't wait to see it again with friends.
August 13, 2011
The movie was put well-together. The fan stories were awesome and seeing the performances in 3D were even better
August 13, 2011
Greatest movie of our time! The new Citzen Kane for sure!
August 12, 2011
This movie is the BEST CONCERT I'VE EVR SEEN!!
August 12, 2011
Great movie !!