Harry Potter and the Order of the Phoenix - User Reviews
Thank you for rating this movie!
Read your review below. Ratings will be added after 24 hours.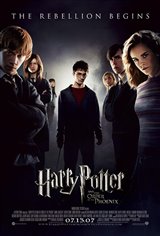 3.40 / 5
User Rating
Based on 6480 votes and 269 reviews
---
Please rate movie 1 to 5 stars
Showing 51 to 100 of 269
August 13, 2007
How long would the movie be if it was a complete rewrite of the movie? And what movie have you seen that is a complete rewrite? That's what a screen play is. if you want the whole story, reread the book. Great movie!
August 13, 2007
The only one I'd see again in theatre
August 12, 2007
How come Harry cannot die in this part so this series could be over now.
August 11, 2007
like all harry potter movies, this one is well worth the wait, the watch, and of course...the money :)
August 10, 2007
it's a wonderful sequal to all the other harry potter movies. it's nail bitting, thrilling surprising and full of adventure. it's full of emotions and laughter. it is a movie that all harry potter fans will love and enjoy.
August 10, 2007
The special FX were spectacular! However, the young actors' acting skills were pathetic; and only the younger Lovelace character was interesting. Radcliffe and his gang can no longer rely on their "cuteness" factor. Let's get some new believable actors! - just like the James Bond movies where each new movie has a new Bond. Or this movie series will get too tedious to watch.
August 10, 2007
It is best movie I've ever watched
August 10, 2007
The worst yet. I don't care if Hilary Duff is in the next one, I've seen my last Potter flick.
August 09, 2007
im sorry, but if u didnt understand the movie, that meens u were too fregin lazy to pick up a bloody book! and even if u didnt, are u that stupid? u cant understand a simply plot?
August 08, 2007
this movie was way too confusing, doesnt explain anything
August 07, 2007
i was very disapointed with this movie. i am a huge fan and i felt this movie did not have a lot of the important info that the book had. the action part at the end was horrible a lot of the good action in the book was left out. i am a little worried about the next movie since it is going to be done by the same director. hopefully that one is more witht the book.
August 07, 2007
This was not the best Harry Potter movie. The story line was all over the place. It wasnt very good.
August 07, 2007
The ending was AMAZING! That huge battle was one of the BEST action scenes i have ever seen in a blockbuster!! Worth a watch...5 stars
August 07, 2007
I was disappointed :( but i still liked the movie since it was harry potter :) but the book was WAY better in my opinon and they could of fit in more events in the movie! It was OK... still liked the fourth one more though well for thoses who didnt read the book and saw the movie anyways you really missed ALOT of events from not reading the book before :(
August 07, 2007
this is a brillant film it is not a waste of money!
August 07, 2007
This movie sucked. Total waste of time. Boo urns!
August 06, 2007
its a good film, but i think it could of been a bit better if they had a more skilled director.
August 03, 2007
as Ron would say "Bloody Brilliant" for those of you that expect it to be just like the book, you will be disapointed. It is not possible to put everything in the movie (it would be about 4hrs long), by blending a couple of things together it made it possible to put more in. my kids call me a Potter geek, no problem, We loved the movie, it went a little more into the story line which was good, and for those of us who read the book we understood everything for those of you who have not read them it was still easy to understand what was going on.The one thing I am dissapointed that was not in the movie was the flood on the 2nd floor by the whesley twins.excellent movie, I will watch it again.
August 03, 2007
this movie is awesome!!!!!!!!!!!!!!!!!!!!!!!!
August 02, 2007
The special effects in 'Harry Potter and the Order of the Phoenix' are great. I really enjoyed the movie. The casting is well done too. It almost made my lean out of my chair in excitement!
August 02, 2007
not the best of the potter movies, but it still was very enjoyable.
August 01, 2007
This movie i think was boring.. the story dragged on and on and it was jus not as good as the other movies. The story was a bit confusing.
August 01, 2007
Never read the books, was disappointed. There are a lot of references made to certain things like Hagrid meeting with the Giants, but no one knows why.....a lot of things left hanging. Movie didn't seem like 2 1/2 hours, but no real story line within the film itself.
July 30, 2007
If you're a fan of the book DO NOT WASTE YOUR MONEY ON THIS FILM it's a horrible interpretation that leaves out many of the key emotional scenes. If you loved the book this movie will leave you extremely disappointed. So much is left out and so much added that was never there. This is the first time i have been disappointed by one of the Harry films. I almost don't want to see the next 2 as I'm sure i will be disappointed, this film does not set them up in a way that they will be able to live up to the books....
July 29, 2007
Well done, very dark, excellent action sequences. Unfortunately there is a lot of information missing that would make it difficult for people who haven't read the books to follow what is happening. Also, I was rather disappointed that there wasn't more of a back story about Hagrid's trip to see the giants, Ron and Hermoine becoming prefects. Could have been longer.
July 29, 2007
A little disappointing, and comments from others indicate that the movie does not fairly represent the content of the original book. There are too many obstaces, too many adversaries and too much of simply coping during this difficult movie, The ending is thus anti-climactic, the confrontation between Potter and Valdemort unconvincing and disappointing, and the audience is less moved by what tragic events do transpire in this story. What is perhaps most rueful is that Harry does not seem to make any progress at all in any department - in his relationships, in his abilities, or in his character. Like Spiderman Three, this film suffered from the diffusing and unfocusing effects of too many str
July 29, 2007
Amazing!!!!!!!!!!!!!!!!!!!!!!!!!!!!!
July 29, 2007
The best one yet!
July 29, 2007
good movie but what`s with Harry`s hair . . way to SHORT and neat . . that`s not how its supposed to be
July 28, 2007
What can I say? It's Harry Potter right? No matter how good the movie was, somebody is going to say that it is bad, listen to me, IK'm telling you, listen to me, see this movie. The Harry Potter world was created beutifly by Yates, I give him props for that. This movie actually shows the dark side of the Harry Potter franchise, well done. I mean the fourth installment was dark and great and all, but, the fifth was actually meant to be darker. I really injoyed watching this movie and, I think you will too. See this movie! It is worth the money.
July 28, 2007
the best harry potter movie so far, this one was alot darker which is why i liked it so much. die hard was the best movie this summer though. 1-die hard 2- transformers 3- hary potter and the order of the phoenix.
July 28, 2007
DAMN....this movie was sick!!!! definetely the best movie harry potter yet!
July 27, 2007
So many people are forgetting that a movie is a movie and a book is a book. Movies have limitations where as a book can have a never ending climax. Considering that this book was one that dragged on and on, they did such an amazing job. The fight scene was one of the best by far. It was an amazing movie period!
July 26, 2007
great movie..emma watson is getting more and more pretty. i want to meet her someday
July 26, 2007
great flick
July 26, 2007
This is the worst Harry Potter movie made. Unlike the usual 3 hours, this one was cut short and many scenes have been altered from the way in which they occurred in the book. I had been looking forward to this movie and was extremely disappointed.
July 25, 2007
it was one of the best movies of the year. i loved it. it had me sitting on the edge of my seat the whole time.
July 25, 2007
the best out of 5!
July 24, 2007
it is awsome
July 24, 2007
Awesome! Luna and Umbridge were great new additions!
July 24, 2007
Harry Potter and the Order of the Phoenix was a good film. As it was the fifth installment of Harry Potter many characters were from previous films and you had to have seen them to know what was going on. I enjoyed the movie on the whole, but, would have preferred if they showed more scenes from the book or at least more of the semester. Neville and Ginny had a bigger part than ever in this movie and I liked having more femininity (Cho Chang also added to the cast) than just male humour. Ron's brothers' age should have been mentioned because in half blood prince they are out of school runing a joke shop. SORRY THIS WAS SOOOOOOOOOOOOOOOO LONG. I HAVE A FULL HEAD!!
July 24, 2007
Worst Potter movie yet, and Ron is starting to look like Danny Partridge...
July 24, 2007
The movie was very good, but leaves you wanting more! It is wide open for the next one...
July 23, 2007
Even worse than its terrible predecessors. We need some actual talent to write the screenplays and dialogue.
July 22, 2007
wayyyyyyyyyyyy to short-the whole year sorta flies by, they missed ALOT, but still good :)
July 22, 2007
Very good movie, possibly the best Potter movie yet. Good action, suspense and acting was pretty good. You should go see it if you're a fan of Potter whether it's the books or movies. Sure they leave a lot out of the book, but if they didn't it would be, like 4 hours and they picked the best parts of the book, I've read it.
July 22, 2007
Too dark, too depressing, and not enough of the magic that made the other films so fantastic
July 22, 2007
Not great, but I'll see the next one just for Hilary Duff.
July 22, 2007
from not a big 'potter fan, found it one of the better movies to go see in a theatre. do a friend a favor and see this one you won't go away too disappointed.