Harry Potter and the Order of the Phoenix - User Reviews
Thank you for rating this movie!
Read your review below. Ratings will be added after 24 hours.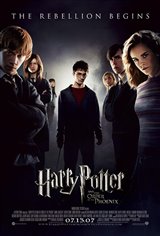 3.40 / 5
User Rating
Based on 6480 votes and 269 reviews
---
Please rate movie 1 to 5 stars
Showing 101 to 150 of 269
July 22, 2007
It was a great movie, I will see it again.
July 21, 2007
this was an awsome movie i cant believe how 'dark' it was!
July 21, 2007
The funniest "Potter" yet! Absolutely hysterical!
July 21, 2007
best m0ovie ever
July 21, 2007
Best movie in the series yet.
July 20, 2007
the 5th one is way better than the 4th; the 4th one was too rushed, they could have made it 3 hrs long instead of 2hrs even my friend who is not into harry potter that much thought it was pretty good i would go watch it again
July 20, 2007
It was awsome !!!!!!!!!!!!
July 20, 2007
it was missing some parts of the book that were my faves but it's still harry potter so i loved it
July 20, 2007
Hp 5 is so awesome! Great movie! I could see it at least 6 times in a row!
July 20, 2007
Awesome Movie, can't wait to see the sixth movie!
July 19, 2007
I think it was a pretty average movie not quite as good as the others especially not GoF which was amazing. I do think the directors did a good job in compacting the book.
July 19, 2007
This was an uppsetting movie... it was missing main points and my favorite parts of the book > like ron playing quidige or how ever you spell it ... acting was alright i guess and they just randomly took line out of the book this is the worst yet and the next movie is hopefully better. haha transformers if even better to me and i hate robot movies i think they are a waist of money to watch but still transformers was better
July 19, 2007
I enjoyed this movie. Harry Potter and friends have not lost their magic touch. However, the books are always better because they can delve into much more detail...
July 19, 2007
This is an awesome film! The best one yet!
July 18, 2007
Plays like a bad after-school special. 1 star
July 18, 2007
It was so so. My son and I have been to all the movies. This one was by far the worst. It seemed to be missing something....maybe heart or action...I'm not sure.
July 18, 2007
The worst movie I've ever seen.
July 18, 2007
awsome movie
July 18, 2007
Phenomenal! One of the best of the series, closely matching the book and my imagination.
July 18, 2007
I was not happy with this movie. I thought it was the worst of all, they left out too many important scenes from the book. I hope the next one will be better because this one was a great disappointment.
July 18, 2007
The absolute BEST Harry Potter movie yet!!! This director really knows his stuff. I can't wait to see it again!!!
July 17, 2007
the best harry potter movie yet, the movies keep getting more mature and darker which is great. this is the best summer movie i've seen so far, better then pirates 3
July 17, 2007
Awesome movie. I would say more serious than the others, considering Ron only had like 1 funny line..but still an awesome movie.
July 17, 2007
amazing acting i cant imagine any other actor/actress in these roles. these people were born for these roles. these actors have had 7 years to get their characters right and you can tell they have become each character.
July 17, 2007
rupert grint is one of the most attractive young men i have seen these days. cant wait for the next film
July 17, 2007
I was extremely disapointed in this movie. It left out so much from the book, and changed a lot of it as well. I think I would have liked it had I not read the book, but it really cut a lot of important stuff from the books. I was really excited to see Ron trying to be a keeper, St.Mungo's, more of Kreacher, and more of the Harry/Cho relationship. This was by far the worst movie of the 5.
July 17, 2007
I throughly enjoyed the movie for entertainment purposes, however, was somewhat disappointed with some of the drastic changes from the book. Had I not recently re-read the book, I would have probably given the movie 5 stars. It was much better than the Goblet of Fire! I wish they would have extended the movie a little longer to develop some of the other characters and to give the Ministry of Magic scenes the time it deserved.
July 17, 2007
Ok, you can't fit everything from a book to a movie, but I think they did really well. You can see the characters growing up and you just want to see more.
July 16, 2007
Nearly everyone left the theater before the end credits were over.
July 16, 2007
This movie is amazing!!!Can you make more movies about Harry Potter???
July 16, 2007
I ABSOLUTELY LOVED THIS MOVIE.. SO FAR THE BEST.. CAN'T WAIT FOR THE NEXT ONE
July 16, 2007
this is an awesome movie!!!
July 16, 2007
INTERESTING
July 16, 2007
still liked the first four better
July 16, 2007
its not so bad
July 16, 2007
The movie was alright. It didn't meet my expectations compare to previous HP movies. I have to agree with some viewers there were a lot of talking.
July 16, 2007
I'll give this 5 stars because it was brilliantly done considering the time frame and the amount of material they had to work with. I felt that the little changes were perfectly done and placed and the over all flow of the movie was enjoyable. The acting was absolutley marvelous when compared to the previous movies. The actors kept to their characters well. By far the best movie out of the 5 so far. The only thing I would have changed was adding an extra half hour to fit in the Mr. Weasly bitten incident. That was a very dark part that would have brought the movie closer to the overall tone of the book. AND MORE PROFESSOR MCGONNEGAL DAMMIT!!!! That woman is awsome. The ending was A LITTLE BI
July 16, 2007
An absolutely outstanding triumph. Every scene leaves you breathless and amazed. Order of the Phoenix is visually stunning and captivating. Five stars! The best potter film yet is also the best film of the summer, and one of the best films of the year.
July 16, 2007
#5 was alot better than #4. One Particular scene reminded me of another scene in star wars. You'll know what im talking about when you see it. gooooo OBI!
July 16, 2007
If you read and remember the book the movie is crap! If you are just following the movies you will love it but find it confusing, especially since they messed up some of the story for the next movie.
July 16, 2007
One of my Top 5 favourite movies
July 16, 2007
It's a very good movie, i really enjoyed it. My favourite of alll the movies. Although with the prophecy i'm not sure it it tells it right. There was something about Proffessor trelawney with it and that didn't happen in the movie.
July 16, 2007
Harry Potter is the best book series out there. I absolutly love it! The first two movies, I thought, were excellent! They followed the books extremly well, they included the important stuff and the quiddich scenes were amazing! But movies 3 4 and 5 are just plain crap.
July 16, 2007
3 stars. OK movie. I thought the evil wizard would be Harry's father like in Stars Wars. HAHA!
July 16, 2007
Alittle rushed, but good
July 15, 2007
Although I gave this movie four stars, I have to say that the last 2 films were very dark and its not necessarily a bad thing but for some younger children they may be frightened by dark scenes. I love the series anyhow and one thing that bothered me about this films ending ... where did the giant boy go??!!!!
July 15, 2007
Hands down, the best movie of 07, Period.
July 15, 2007
this movie rocks i luv it
July 15, 2007
Compared to the last movie, I must admit that this one was extremely well done. Better then I had anticipated. Much of the lines in the movie were strait from the book. Yes, they had to cut all of the sub plots, but what do you expect. I love it. Easily my favorite HP movie so far.