I Know Who Killed Me - User Reviews
Thank you for rating this movie!
Read your review below. Ratings will be added after 24 hours.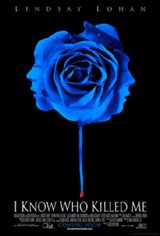 ---
Please rate movie 1 to 5 stars
Showing 1 to 47 of 47
July 10, 2012
lilo at her absolute best! 5/5
February 17, 2012
fun and thrilling ride! surprisingly moving, too!
February 03, 2009
painful to watch
December 20, 2008
Compelling and ingenious thriller; Lohan at her best.
August 12, 2008
actually one of the worst movies i've seen, this or funny games
August 11, 2008
Went into this movie with low expectations, but it's actually pretty good if you like edgy, twisty crime mysteries. It appears a lot of the negativity directed at this movie has more to do with people upset at Lindsay Lohan for either her public scandals and/or because she is more known for teen friendly movies and this is a gory R-rated movie.
January 31, 2008
I don't think there are words to discribe how bad that was.
January 14, 2008
Criminally underrated.
January 02, 2008
Dumbest movie ever!! All it did was reaffirm that Lindsey Lohan definitely can't act!! Stupid plot and story all together
December 01, 2007
I think this is lindsay lohan's best film, she really pulled it off in this one and one word of warning, the film's gore level is kind of high.
August 27, 2007
Weird, poorly acted and anti-climactic, need I say more.
August 25, 2007
Li-Lo's best yet!
August 17, 2007
A superior who-done-it.
August 13, 2007
shiiiiiittttt
August 13, 2007
This movie was just an excuse to have endless scenes of that skank Lohan humping a pole, it was pathetic the whole time i was like my god she was in Parent Trap?! That was close to a porno no lie like they even did close ups of her ass.if u r some 40 yr old pedophile go right ahead and watch this garbage
August 12, 2007
NO...NO...NO...
August 12, 2007
who the hell keeps writing perfect, and oscar? are you insane? worst movie ever. up there with lady in the water and the whicker man
August 08, 2007
This was a horrble movie. Just goes to show you Lohan on her own can't carry a movie. If she getting any awards for this one it will be a razzie.
August 06, 2007
Lohan's portrayal of Aubrey Fleming could land her an Oscar nomination.
August 04, 2007
Wow, Lindsey is Oscar bait!!!!!!!
August 04, 2007
Best of the summer blockbusters.
August 03, 2007
who the hell writes this garbage? can't believe i paid to see this, they should have paid me instead. the story and the acting were horrible. i would not even recommend it as a rental, you will just be disappointed!!!!!!!!!!!
August 02, 2007
it was ok. the end was TERRIBLE. not much of a psychological thriller. needless scenes of striptease (ok, we get, it she was a stripper - MOVE ON), also there was graphic torture which wasn't needed. Oh, and that scene where dakota goes out in the middle of the night to find the killer - yeah, don't bother taking a flashlight or tell anyone where you're going. totally stupid. would not want to see this again.
August 01, 2007
HAHA! Was this a horror movie? I thought it was a comedy! Anyone who believes Lindsay Lohan is a good actress is as stupid as this film.
July 31, 2007
This is the most AMAZING movie! Can't wait to see it again -- it's Li-Lo's BEST!
July 31, 2007
Alright. It was alright, i thought i would have been better... it felt like i left the movie for about 20 minutes and came back soo confused! They could have wrap it up alittle better then they did.
July 30, 2007
this movie was just terrible!
July 30, 2007
makes no sense. poor Lindsay,scary when her real life antics are better than her movies.
July 30, 2007
The best horror movie since HALLOWEEN.
July 30, 2007
Not her greatest but not bad either. Acting is not that great outside of the main characters.
July 30, 2007
It's just about perfect.
July 29, 2007
very lame, doesnt make sense, bad ending
July 29, 2007
Overall It wasn't a bad Movie. It wasn't the greatest or best of the year however It's not terrible either, and It's definitely not the worst of this year like a lot of Movie Critics are saying now. I still enjoyed It though, and It was good to watch just not the greatest though. I thought Lindsay looked sexy too as well.
July 28, 2007
I really like this movie, it's so scary and make you think what's really happening.
July 28, 2007
This was/is a good Movie. It could've been better in some ways but overall It wasn't a terrible or bad film at all. I found that It wasn't too scary like other Thrillers however It still had a good plot, and had good suspense in it too as well. Oh yes Lindsay looks Hot when she does her striptease too as well.
July 28, 2007
Yes it is as bad as the title
July 28, 2007
Where do I start? This was one of the worst movies ever. If you're 14 and a cheerleader, you might find it scary and original. If not, you will feel about as intelligent as a 14 year old cheerleader for wasting your time on this. I've never seen one of Lindsay's movies before so I don't hate her but her acting was awful. So was the writing, the story, and the "incredible" twist. If you couldn't figure this one out after 45 minutes you should go back to school. Since when could glass cut through bone, I always thought bone was harder than glass!
July 28, 2007
Li-Lo's most amazing movie EVER! Just awesome! FIVE STARS!!!!! Move over, Nancy Drew!!!!
July 28, 2007
i believe ht e reason it sucked was that because Lindsey, as always, was drunk
July 28, 2007
What a waste of time. The plot was just not there, the acting, well, no one in this movie could act, it was broken up, and don't even get me started on that pathetic ending. Do not waste your time with this so called movie!
July 28, 2007
stick to singing lindsay...wait actualy - never mind
July 28, 2007
this movie was terrible, do not bother wasting your time or money on this film.
July 28, 2007
DO NOT SEE THIS MOVIE. IT SUCKS. DO NOT WASTE YOUR TIME. YOU WOULD SPEND BETTER TIME PICKING YOUR NOSE. NO WONDER LINDSAY HAS A DRUG PROBLEM!!!!
July 27, 2007
very gory. not a bad movie could have been a bit better, but over all it was very good
July 27, 2007
Excellent movie.. Very on the edge and suspenseful at times! If you like scary and sexy this is your movie:)
July 27, 2007
This movie was so bad that the torture you see on screen is not nearly as brutal as the simple act of having to watch this film. Everything about this film was horrible. I think I'm going to write to the producers in an attempt to get my money back, and possibly also some sort of compensation for the 2 hours of my life that I spent watching this.
July 27, 2007
Very good movie that will keep you guessing. Just a little gory but it is a must see 5 stars.