Midnight in Paris - User Reviews
Thank you for rating this movie!
Read your review below. Ratings will be added after 24 hours.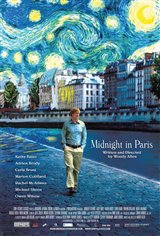 4.01 / 5
User Rating
Based on 414 votes and 131 reviews
---
Please rate movie 1 to 5 stars
Showing 1 to 50 of 131
January 23, 2012
very unique and lovely movie. highly enjoyable comedy about life and the times we live in, and wished we lived in.
January 20, 2012
excellent !
January 15, 2012
Excellent
January 09, 2012
A wonderful film. You actually feel that you are in the 1920s in Paris. Allen's accuracy in the historical characters is impecable. And his ability at creating the historical characters as how we all imagine they were in their time is exceptional. I watched 3x to grasp the complexity of his research and knowledge of the era.
January 03, 2012
I absolutely loved this movie! I was actually was upset when it was over cause I just could've kept watching. I'm not usually a fan of Woody Allen films so I wasn't so excited to go see it, but i'm super happy that I did. Also, Owen Wilson is surprisingly charming in it. Overall this movie is just silly, and entertaining, and charming, and funny, and I definitely recommend it!
December 26, 2011
I liked this movie...it's worth the watch for sure.
December 22, 2011
Cute and funny
December 16, 2011
I did not like this movie, but it did make me want to go to Paris
December 14, 2011
unconvincing acting by owen wilson
December 14, 2011
VERY INTERESTING PREMISE, THOUGH THE MODE THAT THEY USED TO GET FROM ONE ERA TO ANOTHER (a carriage)seemed quite lame, even for a time travel story. THE STORY KEPT MY INTEREST THOUGH AND REALLY DID MAKE YOU WONDER WHAT IT WOULD HAVE BEEN LIKE TO HAVE LIVED IN THE DIFFERENT ERAS.
December 13, 2011
Paris is a very romantic setting for the movie development. Paris views during day and night are great. Another art cinema movie directed by Woody Allen!
December 13, 2011
Cute and fun movie. A bit cheesy, but overall a good flick. Owen Wilson isn't nearly as annoying as he normally is.
December 09, 2011
Somewhat boring.
December 08, 2011
Woody's best!
December 08, 2011
Very Romantic and beautiful cinematography of Paris. Also very funny as well.
December 06, 2011
What a fabulous movie!
November 29, 2011
Magical
November 28, 2011
Enjoyed this movie - a chance to escape from one'sreality and have a very enjoyable time at the theatre!
November 27, 2011
excellent movie. Worth spending a night out
November 26, 2011
Great movie. Excellent music.
November 26, 2011
A decent romantic flick.
November 24, 2011
Wonderful movie - truly Woody's best!
November 24, 2011
what a funny strange unusual movie... I liked it!
November 23, 2011
I want to see this movie but after seeing some of the clips from the Woody Allen special the other night -I am not so sure- I am not a fan of the lead actor and the lead actress didn't have it as far as I am concerned. thanks.
November 23, 2011
Suprisingly good!
November 22, 2011
I went to see this movie when it first came out. I always enjoy anything that Woody Allen is involved in. I liked going back in time and meeting all these famous people, it was enjoyable being a part of yesteryear, I felt I was right there,and I love Paris so that made it extra special.
November 19, 2011
Made me want to go to Paris, but did not like the movie that much.
November 18, 2011
A beautiful, magical story about love, romance, and the pursuit of dreams in Paris. Great movie to watch while on a long flight to Asia.
November 17, 2011
My husband and I saw this movie a couple of days ago and we had such a good time! The characters are fantastic! A beautiful story!
November 16, 2011
absolutely great movie
November 16, 2011
This movie was exciting for me...I loved the fact that he was able to time travel like that. He is an interesting actor!
November 16, 2011
AS only as this comedic romantic comedy,,played out give PARIS itself a co-star. Written so well to be an oscar nominee!
November 14, 2011
Do I actually admit to getting weary of Woody? I was really looking forward to seeing this movie since I'm a big fan of Paris and Woody Allen movies in general. For some reason, Owen Wilson just didn't do it for me. He seemed to try too hard to be a Woody Allen movie character. Rachel McAdam played her role well. Quite frankly, I couldn't wait for this movie to end.
November 14, 2011
Slow going
November 11, 2011
The atmosphere set in this movie of the night streets of Paris was wonderful. To see all ther period costume and live the fantasy was also very fun. I found the marriage storyline less interesting than Owen Wilson's wonderful nightime adventures. Loved how different this movie was from the mainstream.
November 11, 2011
Loved this movie!
November 11, 2011
Fresh, intelligent & funny!
November 11, 2011
I very unique movie and romantic love story. I love Rachel McAdams and her character.
November 10, 2011
I loved this movie - how many times have we bemoaned "the good old days" forgetting that every times has it's good and it's not so good moments... and how so many of us are always unhappy with our own life and are wistful for the past. That all dressed up in fun!!
November 08, 2011
Wilfully silly and heart-warming, this film is very easy viewing
November 08, 2011
A VERY INTERESTING PREMISE WHICH REALLY CAUSED THE IMAGINATION TO GO WILD AS THE CHARACTERS FLIPPED BACK AND FORTH THROUGH DIFFERENT POINTS IN TIME. I DID FIND IT TO BE RATHER SLOW MOVING AT TIMES AND THOUGHT THE FILM RAN A LITTLE TOO LONG.
November 07, 2011
Finally a Woody ALan film i loved. Such a good idea for script and a great reurn to form for Owen
November 07, 2011
If you are an Owen Wilson fan and a history buff, then this is your movie....hate either one? Don't see it...
November 03, 2011
One of Woody Allen's best movies. Good plot, good acting, and good Parisian scenery.
November 03, 2011
One of woody allen's best movies ina long time!
November 03, 2011
enchanting!
November 03, 2011
Beautiful scenery, fantastic story, and an overall romantic and feel good movie.
November 03, 2011
An absolutely enchanting film. I'm passionate about history, so I can identify with Gil's fascination with the past and his desire to live in another era. But ultimately, like him, I would realize every era has it's drawbacks and a desire to escape one's own would not solve all of a person's problems. Still, it was charming to travel back in time with him to the 20's and to La Belle Époque.
November 02, 2011
Nice romantic and charming comedy. I was shocked to see the dazzling array of stars in this movie. Definitely predictable, however puts a smile on your face.
October 31, 2011
Just okay. It didn't captivate.