Once - User Reviews
Thank you for rating this movie!
Read your review below. Ratings will be added after 24 hours.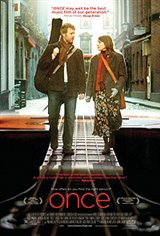 ---
Please rate movie 1 to 5 stars
Showing 1 to 11 of 11
July 12, 2008
That was the most realistic movie I ever saw! Well.. maybe people wouldnt swear as often but still it was awsome I loved it!! More then I expected.
February 09, 2008
this was such a beautiful movie, so subtly done. it was the perfect movie with a perfect ending that took me by suprise but was realistic and even more beautiful and touching than a happy ending could have ever been. i'm fed up of all the hollywood crap. people that can call this movie boring are unculture and narrow minded. this is my favourite movie of the year.
January 28, 2008
GREAT MOVIE. WATCHED IT, WATCHED IT AGAIN. BOUGHT IT. FOR THOSE WHO ARE TIRED OF THE STANDARD HOLLYWOOD PRODUCTS, COMPLETE WITH CAR CHASES, SPECIAL EFFECTS, AND FAMILIAR FACES DELIVERING PREDICTABLE PERFORMANCES, THIS MOVIE IS A REAL TREASURE.
January 20, 2008
Definitely one of the best movies we've seen in a long time, with an ending that caught me completely off guard emotionally. My husband and I both loved it and will be buying it for our collection. Fresh, original and completely uncontrived.
January 14, 2008
how can you fall asleep! this movie was brilliant. i found myself wanting more, but i knew it had to end that way. it felt real, something that you rarely get out of a movie.
January 13, 2008
Oh...I am still laughing... "we don't get it" and "America" in one sentence ...no, please...stop, you're killing me!
January 12, 2008
I'm very dissapointed that some people did not see the simple beauty of this film... it just goes to show that Hollywood has condition us to expect a specific kind of conflict resolution and storyline. I thought it was excellent and the music is brilliant.
January 03, 2008
brilliant!
January 03, 2008
are my husband and i the only ones in america that simply thought this movie was deplorable? we don't get it. this might be the worst movie we have ever rented. don't waste your time, america!
August 06, 2007
it was boring, i fell asleep
July 20, 2007
Excelent. One of the best I have seen this year. This movie shows you do not have to pour in millions of dollars to make a quality film. Great casting and music.