Stardust (2007) - User Reviews
Thank you for rating this movie!
Read your review below. Ratings will be added after 24 hours.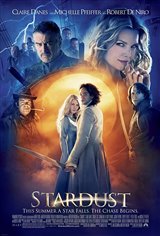 3.73 / 5
User Rating
Based on 1393 votes and 77 reviews
---
Please rate movie 1 to 5 stars
Showing 1 to 50 of 77
July 03, 2009
This movie has instantly become one of my favourites. Its a great combination of action and fantasy and is topped off by a whole cast of great actors, especially those British actors you normally only get to see on TV.
July 13, 2008
Good movie, good effects and all around a good fantasy movie! Very enjoyable!
January 20, 2008
horrible direction, despite decent performances, great scenery, and special effects. Do not waste your time
January 18, 2008
I loved it! Very entertaining
December 02, 2007
the best movie ever what about the love
November 24, 2007
The Movie Maniac sez... I SAW IT TWICE! It's about time!!! They finally brought out a fantasy film for the young and old. Although I would consider this and older crowd type film as it reminds me of the Princess Bride. Funny scenes amazing FX. Guys take your ladies out to see this movie. You will like it as much as she does. The Movie Maniac
November 17, 2007
A must see again and again!
October 21, 2007
good acting, interesting story; seemed like a kids-style fantasy film for adults; wouldn't take anyone under 16 to see it; DeNiro rules in it:)
October 21, 2007
It was a great movie!! love the sotry line and actors great performance!!~ certainly wanna watch it again!
October 19, 2007
Great Movie. Funny, original, surprisingly creative, and quite entertaining. Roles were well played out and believeable. Husband and I both enjoyed it immensley, we couldnt stop chuckling throughout the movie. If you dont like fantasy movies, you wont want to see this one for $12 (go to Rainbow) but if you do, then I cant imagine anyone walking out of the theatre unhappy.
October 16, 2007
Film lost me ,but at least it made you think.Overall,a film for sci-fi nuts and not the average movie goer.
October 06, 2007
words can't describe it. all i can say is "wow".
October 01, 2007
I had no Idea what I was in for... A very good date movie that my GF and I still bring up weeks after seeing it.
September 21, 2007
one of the best fantasy movies i've seen in a very long time. neil gaiman is brilliant and the movie doesn't cut that brilliance down!
September 21, 2007
Awesome MOVIE!!!!!!!!!!!!! It is absolutely worth watching, I'd gladly watch it agian! and again! and again! It is fantasy at its very best.
September 18, 2007
Incredible movie! I'm not even a fantasy fan, but I want to watch this movie over and over again.
September 16, 2007
so original!!
September 15, 2007
Best fantasy movie I have ever seen!!! anyone who says this movie wasnt good is obviously too dull to get the genius behind it. The acting was excellent! as where the special effects. as for the comment which said 'you must be on crack to enjoy this movie', that does make the movie 100 times better, which is hard cause, if I could I would give this movie 1000 stars. *being on any drug is not required*
September 11, 2007
Absolutely amazing!
September 10, 2007
excellant movie and Deniro was very good
September 08, 2007
it rockedddddddddddddddd
September 08, 2007
AMAZING movie!
September 07, 2007
Not to be missed in theatres for the full experience!
September 06, 2007
This is a fantastic film, good for the 13 and up crowd. This film is a must see for anyone who has a heart and enjoys feeling, those deep down mostly private feelings. It is also just great fun to be sitting in ones seat having one fantastic ride, while sitting perfectly still.
September 04, 2007
The whole movie was so predictable. I found it was lame and corny. No recommended.
September 03, 2007
Very Original concept!
September 02, 2007
Anyone who said this movie was good in any way, shape or form, is certifiable or on crack coccaine.
September 01, 2007
Awesome
September 01, 2007
Loved it! Great comedy combined with twists and an all-star cast.
August 31, 2007
I wnt opening weekend and loved it now I want to go see a movie today its the only one that apeals.
August 29, 2007
4 Stars. If the movie's director had the visual panache and style of Guillermo del Toro, this would be a masterpiece for the ages and an Oscar to go. Otherwise a very good movie.
August 26, 2007
This movie is the next Princess Bride, 'nuff said.
August 24, 2007
I really enjoyed this movie, it is a totally new story line.: I can not recommend it for small children, there are parts that are too violent for under 12 year olds. Adults on the other hand will probably enjoy it very much.
August 22, 2007
Excellent movie, Full of fun, fantasy and laid back humour. Didn't know what to expect but was very impressed. You know you've seen a good movie when the answer to "What was your favourite part?" ends up as a re-enactment that lasts for half an hour!!!! Will be buying the DVD for sure.
August 22, 2007
Love it. And i could see everyone in the theatre enjoyed it as well. Definitely worth the movie ticket...and i'm very frugal when it comes to paying the price of movie tickets.
August 22, 2007
simply irrestible, charming, fun, and just laid back. You should definetely see this movie did not have this much fun seeing anything else this year. Its for everyone for it is so awesome....
August 21, 2007
I love stardust, I can't give you anyone thing I loved because the whole movie was great. Good acting with good action and really funny parts. I have to say it is not for everyone, but you should see it once then you'll see its good. 5/5
August 21, 2007
Fantastic! Going to the show, I hadn't expected it to be as hilarious as it was. Unexpected all 'round is about the what I'd call the movie. Five stars.
August 20, 2007
AMAZING!!!!!
August 19, 2007
My wife and I both loved it. Highly recommend it!
August 19, 2007
It wasnt bad but it wasnt great. It was good and worth seeing. The actors give a good performance but the movie wasnt amazing.
August 19, 2007
Wow. Now that was fun. Got more than expected, felt swept away by the story. Amazing performances, DeNiro was amazing, and Charlie Cox charming. Well worth the time, more than worth the money.
August 18, 2007
Absolutely lovely - very uplifting, heartwarming and VERY funny! Very well done.
August 18, 2007
Like most viewers I found this a pleasant surprise. Nice performances from Deniro and Pfeiffer. I thought Clare Danes, although her performance was fine, was miscast in this role. Lots of good laughs...will make a great DVD rental.
August 17, 2007
A great story, engaging characters (DeNiro's 'Captain Shakes Spear'!!!) and sweepingly majestic scenery (filming done in Iceland and Scotland). This movie is a 'don't miss' ...even for the guys!
August 16, 2007
Loved this movie, just a fun fantasy.
August 15, 2007
Great movie! Not just a girl or children's flick!
August 15, 2007
REALLY, REALLY GREAT!!!!!!!!!1
August 15, 2007
OMG what a great film. It is this generations Princess Bride designed for a more adult audience.
August 15, 2007
I didn't know what to expect when I sat down, but the movie reminded me a lot of Princess Bride! It was romantic, funny, adventurous, and had a very good story line. I would definitely recommend it!