The Equalizer - User Reviews
Thank you for rating this movie!
Read your review below. Ratings will be added after 24 hours.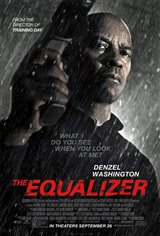 ---
Please rate movie 1 to 5 stars
Showing 1 to 44 of 44
January 08, 2018
This one movie made me a die hard fan of Denzel Washington.
December 31, 2015
Tense, tense, tense. Excellent movie, typical of Mr. Washington. His quiet, laid-back style may be predictable; on the other hand, we always know what we're in for when we buy a ticket.
May 27, 2015
The Equalizer really one of the best movie, everything good.
February 18, 2015
Very good movie ! Denzel never fails to be a great actor ! my boyfriend and I loved it ! deserves 5 stars !
February 14, 2015
New favorite movie. fkin awesome
February 14, 2015
Awesome Movie. Denzel is the Man! I think it is probably not one of his stronger films but definitely is worth watching.
January 13, 2015
Appears a little low budget, most action set in a hardware store. Not a great movie but saved by the undeniable talent of Mr. Washington.
January 11, 2015
great from start to finish! a thriller for sure and exciting
December 31, 2014
This is an awesome movie ! Denzel is the MAN !!!
December 30, 2014
As usual, Denzel's performance was excellent! Great movie...
December 29, 2014
Bit slow through parts of the movie. Worth having a look at, seen worse than this one. 3.5 out of 5
December 16, 2014
Excellent
November 09, 2014
Not the best Denzel movie I have seen by far a number of people were snoring 3/4 of the way through in the theatre and it dragged on leaving you feeling should I stay or should I go . I stayed but was happy for the ending to finally arrive .
November 03, 2014
Awesome!!!!
October 25, 2014
Happy to see this very intense definitely worth seeing it again Lots of action 5 star
October 18, 2014
Amazing movie. Denzel shows why he's one of the best actors alive
October 17, 2014
What a mob garbage movie!!!
October 15, 2014
This movie did not disappoint. A true action thriller! Denzel played the ultimate alter ego role.
October 15, 2014
Best action movie I've seen in a while. Denzel did not disappoint! An easy 5 star rating! Awesome!
October 13, 2014
very enjoyable,loved it.
October 12, 2014
Loved it had to watch it twice
October 11, 2014
very good movie, good pace. enjoyed the action and the quiet moments as well. we all need someone like him to help in troubled times.
October 10, 2014
Denzel was great as usual. The movie was good up until the end then they went Hollywood overboard with over the top, unbelievable Hollywood action cheesiness
October 07, 2014
One of the best acting I have seen in a long time ! The beginning middle and ending !! Loved it !!
October 07, 2014
A very good movie to watch.
October 06, 2014
I really enjoyed the movie. The pace at the beginning of the movie gave viewers a chance to observe the relationship between Denzel's character and his co-workers. It gave some insight into why he would chose to cross that line into violence. It was graphic, but it did not seem like pointless violence in my opinion. Actors were great, story was entertaining. Solid 4.
October 06, 2014
This is what an action should be. 5 stars
October 06, 2014
This is best I have watched with Denzel Washington show was great all the way no boring parts in the movie
October 05, 2014
It is, probably, the worst action movie and Danzil Washington role. There is too much unnecessary violence showing all possible brutal ways to kill people without much justification for all this brutality. It looks like Denzil is fighting against ISIS and this movie is created to raise a anti-bad guys spirit of American public and American soldiers going to Iraq and Syria. Many people were tired of watching 2 hours of this bloodshed. There is too much violence in the world to watch this make-up untrue story. It was a waist of time.
October 04, 2014
As I was watching this movie I was trying to think what it reminded me of... cross between WWF and a very bad Jean-Claude Van-dam movie. Wait for DVD if you really must see it otherwise don't waste your time. I'll, give it a 2 as I enjoyed the popcorn.
October 04, 2014
I thought this was a excellent movie and I loved the way the bad guys got what they deserved. Denzel Washington was great.
October 03, 2014
Did not enjoy this movie for the extreme violence and bloodshed which was way over the top. The other reason was for the language -- the F bomb does not add anything and iIs it really necessary to use it five or six times in a sentence. This movie should have been rated R.
October 02, 2014
I thought this movie was pretty good. Took it's time developing the characters in the beginning rather than just jumping into action and revenge killings. In some ways it reminded me of another Denzel movie, Man on Fire, except the directing was a little less 'jumpy' in this one. And, like all the other reviewers already said, Denzel is great in this role...so likeable and yet so deadly!
October 01, 2014
First, it should have been rated 18 A for content & violence. Second, the violence was more than needed. Didn't enjoy it much for these reasons, which weren't indicated through trailer etc.
September 30, 2014
Great entertaining movie, exactly what I wanna see on the big screen. Tons of action!
September 29, 2014
I loved this movie it was amazing! Denzel is such an amazing actor and I can't say anything more!
September 29, 2014
It was a very action packed movie loved it! A little slow in the beginning but it made up for it through out the movie denzel Washington is a very good actor in this movie. Definitely a must see and I would even watch it again!
September 29, 2014
My man! Denzel Washington is my man!! Love him in this movie :)
September 29, 2014
It was OK. First half of the movie we super slow, then there's some action but the lighting in the film is so dark you can't even see what Denzel is doing to bring the "bad guys" down. Just a lot of sound effects of breaking bones rather than getting to see the action/choreography. Nothing special.
September 29, 2014
It's slow to start, but once the action scenes start up, they don't stop until the bitter end. Excellent movie with a great story and captivating cast. Definitely a must see!
September 28, 2014
Obama had a dream... and American taxpayers wasted the money - do not waste your time
September 28, 2014
If Denzel Washington is a favorite actor then you probably will like this movie. Problem is that the film progresses just too slow then punctuated by short graphic scenes.
September 27, 2014
A little slow to start, but once the action starts it's pretty good. Denzel is the lone star and support cast is okay.
September 07, 2014
Given 4 conditional ones, 4 anticipated stars!