The Giver - User Reviews
Thank you for rating this movie!
Read your review below. Ratings will be added after 24 hours.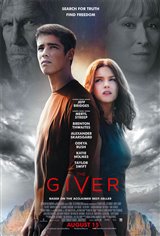 ---
Please rate movie 1 to 5 stars
Showing 1 to 13 of 13
September 02, 2014
For everyone read the book it is required reading for 6th graders and they did a wonderful job recreating the written words of a fabulous thought provoking book for young people.well done
August 26, 2014
This is definitely a great idea made into a good movie. I enjoyed the acting and I loved the level of action. It has its cerebral times and they fit perfectly with the flow the movie. Jeff finally plays a good part.
August 26, 2014
its different! at first it was boring but got better. In the end i felt it was an interesting movie.Something to make you think.
August 23, 2014
This movie tried so hard to be food for the soul, but was just predictable, superficial, regurgitated pablum. Not even Meryl and Jeff could pull this one out of the gutter.
August 21, 2014
This movie reminds us of what it is to be human and the importance love and faith in our lives. Jeff Bridges was excellent.
August 21, 2014
Exceptional movie, well directed!
August 18, 2014
Loved the movie
August 17, 2014
Not the best but not the worst.....actually left the theatre thinking it wasn't bad but today thinking it wasn't that good....to each there own ;)
August 15, 2014
Not even Jeff Bridges and Meryl Street could save this. Two hours of my life I won't get back.
August 14, 2014
Better than Hunger Games and Twilight combined!
August 14, 2014
Saw advance screening last night. What a waste of film. You can tell the only people with talents are Jeff Bridges and Meryl Streep. It was so boring. The lead guy acts better as it goes on. But what's with the Utopian/dystopian future teen films lately. It was a cross with Hunger Games meets Divergent says the kids around me. Boring big time. Zero action. Zero suspense. It was mono tone from start to finish. Oh and the slow motion fuzzy filming completely ruins things. And it's done at some wrong times.