The Jungle Book - User Reviews
Thank you for rating this movie!
Read your review below. Ratings will be added after 24 hours.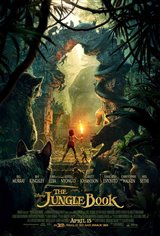 4.28 / 5
User Rating
Based on 266 votes and 106 reviews
---
Please rate movie 1 to 5 stars
Showing 1 to 50 of 106
September 11, 2016
Was an ok movie! Not really a great remake. I expected more from Disney.
September 04, 2016
SO TERRIBLE. ONE OF THE WORST MOVIES EVER. BORING, UNFUNNY JOKES, THIS REMAKE DOES NOT DESERVE TO SHARE THE NAME OF THE ORIGINAL
August 31, 2016
Pure Disney magic - and a nice mix of Kipling's tale and elements from the Disney animated classic. Neel Sethi is incredible as Mowgli - especially when you consider he was acting to a green screen, or Henson Workshop facsimiles of the other characters, most of the time.
July 18, 2016
Finally got to see this on the weekend. I was impressed. Adding the 2 great songs from the cartoon version in a unique way was key. Everyone says the movies rely on too much CGI nowadays, well this one, the CGI helped make the story what it was. Mowgli was a great actor considering he's a newbie in the movie world, he acted as though he'd been around talking to animals for years!
June 01, 2016
How animals came together at end against the lion..great movie.
May 27, 2016
I thoroughly enjoyed it. A wondrous retelling of the tales by Rudyard Kipling. A drawing card for children and adults alike. Very realistic depictions of the animals. Heartwarming and fun. My kind of movie.
May 20, 2016
absolutely magical!
May 20, 2016
stunning images, 3d version is better
May 18, 2016
fantastic, just fantastic
May 14, 2016
It wasn't that bad, but there was no need to make another Jungle Book movie, the original is perfectly fine.
May 14, 2016
Great movie, but does Mowgli have to look so much like Jian Ghomeshi?!?!
May 08, 2016
Another Disney ram down our throats repeat of a old classic...just like star wars. Special effect do not make a classic...ever. Screenplay and new frontiers. Give me a break. Come up with new material you evil money hungry Disney cronies...
May 07, 2016
It's a deadly movie but an awesome
May 03, 2016
Me n the family went today. Oh man, what an awesome movie. Good fun for all ages. Love the classic cartoon and this just brought everything to life. Kids were asking for part 2. ??
May 02, 2016
Graphics unbelievable but why make a new one the old one remains THE classic. Kind of ruined the songs with a new rendition.
May 02, 2016
Great movie. Took my nephew to the original movie and today my nephew took me.
May 01, 2016
Went to see the regular non 3D one with mom and dad. Very good. Great graphics animation. The main boy in it was amazing. At times brought tears to my eyes. Didn't even finish my sprite and popcorn. That's how much I was into it haha.
April 30, 2016
Loved the movie. Graphics amazing, animal characters, great job. Bravo!
April 26, 2016
Too dark and a little cheesy the effect. The kid did good acting. The old version is better.
April 23, 2016
Saw this movie with my husband. Thoroughly enjoyed but would not recommend this for children under 8.
April 21, 2016
Saw this movie in 3D and it was pretty amazing! The animals were so real like and some moments in the movie are pretty intense. Some parts had me laughing, some had me crying and some had me jumping out of my seat. All around feel good movie, everyone should see!
April 20, 2016
Way too scary for 5-6 year olds but Nana loved it.
April 20, 2016
Saw it at the VIP 3D theater and I was blown away. So well done and can't believe the graphics and how everything came together.
April 19, 2016
Most entertaining, memorable, action packed and enjoyable adventure!
April 19, 2016
My daughter and I loved the movie. Idris Alba was fierce as a tiger, Bill Murray was born to play that bear. My daughter kept on saying awesome! That little boy is a super star in the making. The movie was entertaining but also had some real life lessons for kids and adults to learn; Bullying, discipline, responsibility... and the list goes on. Loved every bit of it.
April 18, 2016
Me and my daughter loved the movie especially in 3D, The animals look so real. I thinks it's one of the best remakes of the story.
April 18, 2016
I absolutely love the live-action remakes that Disney has been making recently. The Jungle Book did not disappoint! Fans of the original animated movie will love a number of references back to the animated film including the iconic music. The scenery transports you right to the jungle, with a mystical edge and feel to it.
April 17, 2016
Job well done
April 17, 2016
This movie is NOT for children only! The computer animation is so exceptional adults will be equally mesmerized. Great story line and fun for all.
April 17, 2016
Loved the movie especially with the special effects in 3D.
April 17, 2016
I loved the film. The scenery, the special effects, the actors were all terrific. I'm sure it will become a classic.
April 17, 2016
I really loved this movie. The way they made the animals come to life like that was amazing. All the voices were so well done and I am really happy how this movie turned out! I recommend everyone should go see it!
April 17, 2016
This movie continues to be one of my faves! The effects were amazing and the film was a great fit for my 11 year old nephew who had a blast! Great work Mowgli!
April 17, 2016
Loved this movie....if you can see it in IMAX.....well worth it.
April 17, 2016
Incredible
April 17, 2016
EVERYBODY NEEDS TO SEE THIS MOVIE!!! Although, in my opinion the lower viewing age limit is mature 10 year old. The quality of CGI is phenomenal! This movie will be all over the Oscars for technical achievements. And acting! Neel Sethi, who played Mowgli, was amazing, moreso when you consider that most of his acting was against greenscreen, playing off of tennis balls and digital prompts of animals. The artists behind this have ushered in a New Age of Digital Filmmaking.
April 17, 2016
Enjoyed the movie. Suitable for children and adults. The CGI animals and jungle were very good. I especially liked the plans to get the honey from the cliff tops. Very clever.
April 17, 2016
Visually impeccable, the 3D adds to the movie and the animal designs are great. Animal sounds are also great, but the songs are okay at best. The movie is a bit too linear and with some scenes are too short for my liking. Neel Sethi did a good job as Mowgli. Overall, a good movie for the whole family, but there are scenes that could be quite scary for some young children. Still, there are enough light-hearted and funny moments in the movie for them too. It will give older Jungle Book fans an urge to read Kipling's novel again (or for the first time) or watch the older Jungle Book cartoons and movies once more. On another subject: for Tribute.ca staff, adding the half-star to the rating system would be much appreciated. I would actually rate it *** 1/2 star out of five.
April 16, 2016
My son and I truly enjoyed it. It was exhilarating at times and sweet at others. Overall a great family film.
April 16, 2016
Movie was awesome! Watched with my 11 year old daughter and we jumped few times! Had great graphics, sound and animation! Fave character is Baloo :)) Will def buy the movie when it comes out
April 16, 2016
Absolutely loved the movie. Truly brought back my childhood memories! Definitely would recommend !!????
April 16, 2016
This film was a really lovely update of the older animated Disney feature. I loved the empowering ending (won't say too much more - no spoilers!). My five year old found it a bit scary at parts, and not as entertaining for her age group as the Disney animated films - but I think older kids will absolutely love it.
April 16, 2016
My 8 year old son and I loved the movie! Jon Favreau is an awesome director.
April 16, 2016
Pure Disney magic! The movie was simply amazing to watch! Thank you Tribute for the advance viewing tickets :)
April 16, 2016
The one cute little boy was raised in the jungle & went through such an adventure to make his point stand throughout: living with nature where he felt safe with love & protection of the jungle law... I walked out of the theatre feeling in awe of how brave Mowgli did with all his survival skills.. Beautifully done in 3D attracts me from the start to the end of movie.
April 16, 2016
This is an excellent film. I loved Baloo.
April 16, 2016
An enjoyable movie for all ages. Bill Murray's Baloo was the highlight.
April 16, 2016
A fun movie and interesting update. Voice acting was well done with the possible exception of Christopher Walkin, whose accent seemed just a little off. Though the musical numbers that were included were expected, they also took you out of the movies' flow and could have just been left out altogether. All in all, worth the money - 3.5 stars