The Jungle Book
Thank you for rating this movie!
Read your review below. Ratings will be added after 24 hours.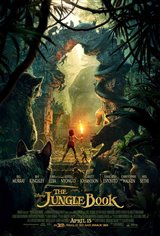 4.28 / 5
User Rating
Based on 266 votes and 106 reviews
---
Please rate movie 1 to 5 stars
Showing 51 to 100 of 106
April 16, 2016
The movie is an "update' of the 1967 Disney animation of the same title. It is for a more grown-up audience. The scenes are more ambivalent and not as "sweet" and 'innocent" as the earlier version. Some of the memorable songs from the earlier version was retained for the current version, but toned way down. I like both versions. the earlier version for a younger crowd (my children when they were younger) the the current version for my 14-year old daughter.
April 16, 2016
Love, love, loved it! Will go see it again and tell everyone it's a must see!!!
April 15, 2016
The CGI and voice acting were first rate and Neel Sethi was quite believable as Mowgli. The ending might not be for the youngest viewers...
April 15, 2016
The jungle looks absolutely, awesomely, totally beautiful in 3d! This is by far the best rendition of the Jungle Book yet!
April 15, 2016
I was very excited for this movie to come out for my daughter because she loves the original Disney cartoon. She is 2 so it may be a bit scary for her at some parts. That's about the only negative thing I can say about it but it isn't much of a negative comment because it reaches to a larger audience than just small children. I personally enjoyed the movie a lot. The visuals were spectacular, the songs were well done (although my kids would probably want more) and the story is something I can be glad my daughters will grow up to know. I won't be too upset if this is one of those movies they watch constantly because it is one that I won't get sick of too quickly. I couldn't be so lucky.
April 15, 2016
This is a great re-make of a classic movie. Neel Sethi captured the hearts of the audiences. I will probably watch this movie again.
April 15, 2016
Fun, entertaining, great special effects...but to only human in the movie can be a little annoying....
April 15, 2016
My daughter and I enjoyed Jungle Book very much! We have told all our friends and co-workers that they have to go see it!! It was very realistic and at times we were on the edge of our seats!! Thanks for having us to enjoy the advanced screening??
April 15, 2016
Loved the original cartoon from the 60's but this was a completely different experience which I thoroughly enjoyed. This screen experience is totally unique making it difficult to differentiate what is real and what is imaginary. If you like CGI, you'll love this movie. They have pushed the limits to a whole new level in using this technology. Combined with the talents of many A-list actors, this movie is a must see for all movie-goers.
April 15, 2016
Was really impress by the CG animals, they didn't look fake. The winks to the original and classic Disney masterpiece were amazing. A great remake for new generations to discover.
April 15, 2016
Magnifique film à voir en famille. Beaucoup aimé. Par contre, pas recommander pour des jeunes enfants.
April 15, 2016
My friend and I both quite enjoyed the film! We thought the kid actor did a wonderful job and the CG animals were incredibly well done, so photo-realistic.
April 15, 2016
Very exciting, very touching. It's just all very, very well done.
April 15, 2016
A visually stunning masterpiece! Even though it was almost two hours long the movie flew by ... I was very entertained. In my opinion it is a movie for older kids as well (just a heads up).
April 15, 2016
Lots of childhood memories watching the series on tv, the movie was very well done. Loved it!!! I highly recommend
April 15, 2016
I am 40ish and I really enjoyed this movie - especially the 3D effects! Indeed, I found myself jumping out of my seat a few times and feeling chilly as it began to rain (on screen.) I would recommend that children 8 and older watch this movie (some parts may be too frightening for children younger than that.) It is a movie for EVERYONE! (with a wee MORAL to go along with it.)
April 15, 2016
The Jungle Book was a long time coming but definately worth the wait. Jon Favreau made magic with computer generated animation and the talents of one young boy Neel Sethi - Mowgli. The voices of Bill Murray as Baloo, Idris Elba as Shere Khan, Ben Kingsley as Bagheera and Christopher Walken as King Louie were very well cast as they were recognizable and each brought their personalities to their roles. Very up to date in language and expressions which added to its charm. I am sure this is a movie to watch over and over again but seeing it for the first time on a big screen is a must. I would however not recommend it for very young children as perhaps some of the jungle experiences might be frightening or not understood. All in all a movie not to be missed.
April 15, 2016
True to the original, entertaining and fun. A movie for all ages!
April 15, 2016
A Disney masterpiece. It has everything: an original storyline, engaging characters, great soundtrack, lots of humor too. This is one of those films that left a big impression on an entire generation of children.
April 15, 2016
Great job by Neel Sethi, I totally believed all the animals were really there. Bill Murray was hilarious. Overall, absolutely loved it!
April 15, 2016
Excellent adaptation of the novel. Beautiful story, touching and appealing characters. Funny. One of Disney's most loved and best known films. A Walt Disney masterpiece.
April 15, 2016
The film was magnificent! The 3D imaging, the details of the animals, the jungle, wow!! Bravo for this film :)
April 15, 2016
We absolutely loved this film, it's really beautiful and a must see, but I wouldn't recommend it for young children.
April 15, 2016
What a fantastic film. The animation of the animals is so believable. The film was a bit violent for little ones. My five-year-old daughter liked it, but she had a nightmare afterwards. Probably not for children less than 6 or 7 years old.
April 15, 2016
Great family, Fantastic graphics, the little boy is great, wonderfully told story that grips you throughout the movie - is sure to become a classic! Best Jungle Book movie ever made (although it may be a bit scary for small children as there are some pretty realistic animal fighting scenes.) Wonderful movie!
April 15, 2016
Great adaptation. Enjoyed it very much. Recommended!
April 15, 2016
I thought it was great modernized rendition of the show I grew up with - my son loved it !! Highly recommend.
April 15, 2016
was an amazing film, one to enjoy with the whole family. definitely a movie that kids and adults could enjoy together ! :)
April 15, 2016
The new JUNGLE BOOK brings back memories of the book I read when growing up, and offers an expansion on the images I developed as a kid. The character of MOWGLI immediately attracts the protective instinct in the viewer/participant in the story. The 3D effects help this feeling grow, and one is enthralled by the feats he performs with a variety of animals that exhibit almost human reactions to him. This is a great movie for families to watch together, and discuss later over a meal or snack
April 15, 2016
What an excellent movie! Totally worth it to see it in theatres! :) Visually stunning!
April 15, 2016
Nous avons adoré le film, vraiment beau à voir mais toutefois, je ne le recommande pas pour les jeunes enfants.
April 15, 2016
Great movie! My daughter and I saw it together and we both loved every moment of it.
April 15, 2016
I thought the movie was great and well done. It was a real experience to watch it and thoroughly enjoyed it.
April 15, 2016
Excellent movie for the family! The animation of the animals was amazing and I loved listening to the voice of Ben Kingsley.
April 15, 2016
C'est un super bon film. L'animation des animaux est très crédible. Le film est un peu violent pour les petits. Ma fille de 5 ans a aime, mais elle en a fait des cauchemars. A voir en famille avec des enfants d au moins 6-7 ans.
April 15, 2016
The movie was fantastic. The CGI was amazing. A great remake of a classic
April 15, 2016
Great remake. The CGI was amazing.
April 15, 2016
I truly loved this movie! I laughed and jumped and even cried in a couple spots. This was my favourite as a kid and its definitely been done justice!!!
April 15, 2016
The Jungle book was an amazing move, the graphics were fantastic and the voice overs were perfectly selected.
April 15, 2016
It's awesome. And cool From beginning to end it was awesome I love. Advanced screaming movies
April 15, 2016
Le film était magnifique! Les images 3D, le détail des animaux, la jungle, wow !!! Tout simplement bravo pour ce film :)
April 15, 2016
A beautiful remake of the classic The Jungle Book. There is something in this movie for everybody to enjoy. A star studded cast of voices, Bill Murray and Ben Kingsley to Christopher Walken and Scarlett Johanssen make the movie even more interesting.
April 15, 2016
I thank you for the movie pass to see this movie. As a senior citizen I was quite empressed by the graphics in this picture,as I haven't been to a childrens movie in alot of years. We totaly enjoyed ourselves for this evening out. Thank you again.
April 15, 2016
The CGI is absolutely stunning and the action sequences are great. Shere Khan is a great villain.
April 15, 2016
Loved the movie!! Neel Sethi was amazing!!
April 15, 2016
You want to see a remake done right? How about a good child actor? What about an actor who can work with CGI characters and not be awkward? Need I say more?
April 15, 2016
This movie was a fantastic update to the old classic cartoon. Christopher Walken and Bill Murray have both tied in my mind as the best performances. The animation was astounding and allowed you to feel like the animals actually were speaking and reacting.
April 15, 2016
This movie was amazing and brought back a ton of childhood memories. The animation was great and I found it very cool that the whole movie only had one real person. When the songs came on (bare necessities/ be like you) it was like having flashbacks to me being a child. I love those songs. The movie was greatly made going from one scene to the next. Amazing movie for all ages.
April 15, 2016
Excellente adaptation du roman. Belle histoire personnages attendrissant et attachant film d'animation Drole. un des film les plus connu de Disney et un des plus aimez. un des chef oeuvre de Walt Disney