The Lord of the Rings: The Fellowship of the Ring - User Reviews
Thank you for rating this movie!
Read your review below. Ratings will be added after 24 hours.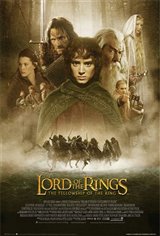 4.66 / 5
User Rating
Based on 102060 votes and 1213 reviews
---
Please rate movie 1 to 5 stars
Showing 51 to 100 of 1213
March 21, 2004
This is my favorite movie of all time. Every time I watch it, my breath is taken away. An instant classic that not only has epic battle sequences, but an outstanding music score. Ontop of that, this is just a beautiful movie to look at.
March 11, 2004
I think that the Lord of the Rings is absolutely AWESOME!!! FABULOUS!! ALL TOO GREAT!!! BEST MOVIE EVER!!! I`v watched it at LEAST 24 times now and I know the whole movie by heart - and I`m not kidding!! I think that the actors did a fantasic job displaying the characters. J.R.R. Tolkien would be proud!!!
February 23, 2004
It was amazing!!! I almost have the entire thing memorized! I`m guessing that by now I`ve probably seen the movie a total of at least 20 times!!!
February 12, 2004
it is an amazing movie . the movie isn`t boring . elijah wood and orlando bloom ar so HOTTTT . i love them !!!!!!!!!
January 21, 2004
I think that LOTR:The fellowship of the ring was the best film I`ve ever seen. I saw it 10 times and I didn`t get bored. I love it
January 17, 2004
I think it was awesome and the best yet out of all three.Smeagle was real cool.The actors out did themselves. A+++++++++
January 11, 2004
It was the best. I saw each one in theaters at least twice! I hope Peter Jackson Makes The Hobbit. I have a cartoon of the Hobbit and watched it many times. Even the book too!
January 01, 2004
I agree with the writer who said...IT SUCKS SO MUCH I HOPE THEY NEVER MAKE ANOTHER ONE
December 22, 2003
excellent movie - it stuck closely to the book upon which it was based.
December 13, 2003
IT SUCK SO MUCH I HOPE THEY NEVER MAKE ANOTHER ONE
December 10, 2003
i thought that it was better than any other movie.. because when you see a movie nowadays..it`s gun`s...and...hightech stuff..but this is just the oldfashion good swordfighting..and i like that..it not so modern and i was suprised that it was so good. and i read the book and it looks a lot like it .
December 06, 2003
Its just awsome!
December 05, 2003
Amazing movie...can`t wait for the third installment...
November 11, 2003
THIS IS THE GREATEST MOVIE I HAVE EVER SEEN!! EVERYONE SHOULD WATCH IT!!
November 06, 2003
Fabulos movie and incredible picture, totally deserves to win all possible movie awards and in visually stunning.
September 18, 2003
An awesome well written, well directed and well acted movie. I do not like watching movies but I couldn`t keep away from this one. I watched it several times. A+++++++
September 16, 2003
the best movie in the world
August 31, 2003
I loved this movie! I watched it at LEAST 7 times (no kidding) and this is what made me read the entire trilogy and The Hobbit that opened up the great world of Tolkien. This movie has great special effects, sounds, and scenery! This is one of the best movies ever!
August 21, 2003
IT SUCKED!
July 19, 2003
best movie ever you have to see it
July 13, 2003
This movie was long but interesting. I thought that it was a great adventure from the beginning and i can`t wait to see the finish.
July 07, 2003
This is one of Hollywoods greatest creations....not to mean also a masterpiece book... LORD OF THE RINGS IS GONNA BE AS(IF NOT BIGGER) THEN STAR WARS!!!!!!!!!!!!!!!!!!!!!!!!!!!!!!!!!!!!!1
June 28, 2003
It was good but too much make believe stuff!
June 01, 2003
Definitely the best movie I ever saw. The special effects was so great! I never been a huge fan before. But it`s official: I`m a big fan of the movies «Lord Of The Rings». Nothing can beat these movies.
May 22, 2003
Wow, it`s amazing what they can put on the big screen.
May 17, 2003
Both 1 and 2 are superb movies. My favourite parts are the opening scenes after the prologue of the Fellowship. The scene with Frodo and Gandalf greeting one another is extremely heart warming and endearing and establishes the nature of the bond that will bind the Fellowship together in the face of overwhelming evil. The following scenes in the shire reveal that the fundamental nature of what is good in life rests with the family both by blood and extended by friendship. The Lord of the Rings is an amazing creation by Tolkein and Jackson has been true to its spirit.
April 20, 2003
"Lord Of The Rings:The Fellowship Of The Ring" is the BEST movie I have seen in my entire life! When I saw it, I hadn`t read the books, but the next day I started the first one. 20 days later, I was done the trilogy plus "The Hobit." I was shocked at how very close radical director Peter Jackson made the film. The second one is even better, which is hard to believe. Nothing will ever replace them, except for, of course, the third one! Read the books!
March 16, 2003
Fantastic!! the only thing better is The Two Towers. P.S. Orlando is HOTTTTT (had to fit that in somewhere!)
March 16, 2003
The film was extremely good, though I think that Two Towers is still better. I saw the fellowship on video only. Reminds me a lot of another film story in a galaxy far, far away..
March 15, 2003
It is absolutely magnificent! The only movie that I would like to collect, and the other two installment as well! I watched The Two Towers 7 times!!!!!
March 15, 2003
i love these kind of fantasy-magical films.viggo mortensen is my every dream. he has inspired me so much! tlor is my favorite movie of all-time.e-beth.
March 07, 2003
It is one of the greatest movies i`ve ever seen and i`ve seen thousands of movies. Tolkien created a mystical place that i think everybody wishes were real. I had only heard about Lord Of The Rings and after i saw it, i insantly fell in love and had to see the others.
February 07, 2003
it was the very best movie ive seen in my life!!!!!
February 05, 2003
I love the whole movie. Sean bean is a great actor. cant wait til the next one comes out.
February 02, 2003
It was amazing. The actors did an awesom job. Best movie.
January 26, 2003
AMAZING!!!!!!!!
January 17, 2003
lord of the rings is so good ORLANDO BLOOM IS THE HHHOOOTTT he is the best person in the world so is aragorn the second movie was amazing i have a book on lord of the rings 1 and 2 it has pictures of everyone even orlando bloom. krizia valdes
January 09, 2003
THE BEST MOVIE YET!!!!!!!!
January 06, 2003
It`s a little long but it`s realy good cus you don`t get bord at all
December 20, 2002
Legolas(Orlando Bloom) Is sooo hot!!!!
December 15, 2002
Best of it`s kind ever. It`s about time we see Tolkeins works portrayed with talent and style on the big screen.
December 15, 2002
It`s the best movies ever! Elijah Wood is hotttt!!!!
December 12, 2002
I just love the movie. I mean it is so cool. When i first saw the movie i was a little bit scared when they where going th the Moria! Im so exited for the Two Towers! I saw the Fellowship of the ring like 5 times in dvd and 3 times in the movies! I just love that movie i cannot say how much i like this movie! Plus Frodo and Legolas are so HOT! OK i just love like this wicked amazing scary a bit movie! £lizabeth
December 11, 2002
amazing movie best ever cant wait til dec 18th!!!
December 10, 2002
Legolas made the movie. I don`t think I would love it as much if he was played by someone other than Orlando Bloom.
December 08, 2002
let me put it this way, i LOVE a LOT of movies. But this one was the BEST!!!! I am going to die waiting for TTT comes out!!! I want it to come faster!! im going insane, that is how bad i want it to come out!!
December 06, 2002
in one word: WOW! i`ev read the books and its all awsom!! my favourite hobbit is Samwise Gamgee, i have a friend like that except "she" doesn`t call me "Master Aubrey" lol
December 02, 2002
BEst movie i have ever seen ELIJAH WOOD >>C-U-T-E ORLANDO BLOOM >> H-O-T cant wait for the two towers and the return of the king
December 01, 2002
the best show of all times i can`t get enough of it and can`t wait for the second to come out i will be there on opening day!