The Lord of the Rings: The Fellowship of the Ring - User Reviews
Thank you for rating this movie!
Read your review below. Ratings will be added after 24 hours.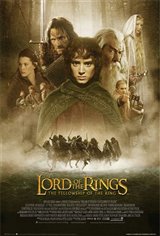 4.66 / 5
User Rating
Based on 102060 votes and 1213 reviews
---
Please rate movie 1 to 5 stars
Showing 151 to 200 of 1213
August 18, 2002
one word: amazing.
August 14, 2002
excellent action and graphics can wait for the next episodes they should do the hobbit as well to make the series complete
August 14, 2002
Awesome movie, only compliant that I have to wait so long to see the next one
August 12, 2002
SUPERB!!!!!!!!! Waiting anxiously for the Two Towers. Well done!
August 09, 2002
Best movie in history.
August 09, 2002
This is the far the best movie I have seen. I cant wait to see The Two Towers
August 08, 2002
Best movie ever! I think it should have won a academy award but you know those Hollywood people have in mind for the other movie to win the best picture you know which one it is, but I give it ***** and I love each part of the movie never got bored + right now I own it on DVD which is more coller, I can`t wat till the second one comes which is this December.
August 06, 2002
I think the LOTR is the best movie ever. You`re so excited and you have this great feeling. After the movie, I was shaking. Not because I was scared, but because I wanted to know what happened next. The LOTR rocks. I saw it 4 times. I would give it 2 thumbs up and 5 stars.
July 29, 2002
It was very entertaining.
July 29, 2002
The movie is absolutely fantastic! The book was almost dull, but they cut out many scenes from the book, and the special affects were great!
July 28, 2002
best movie ever made
July 28, 2002
It was awesome! I can not wait for it to come out on video! Thanks
July 28, 2002
I DON`T KNOW HOW ANYONE COULD NOT LIKE THIS MOVIE. IT WAS THE BEST THREE HOURS THAT I HAVE EVER SPENT IN A THEATRE. I JUST WISH THAT WE DIDN`T HAVE TO WAIT FOR SO LONG FOR THE NEXT TWO. BUT THATS OK I WILL WAIT FOR HOW EVER LONG IT TAKES.
July 27, 2002
The movie was too damn long. HOwever the special effects were amazing but please make it shorter
July 27, 2002
this movie was good
July 26, 2002
To the almost 3000 people who gave this movie ONE star: I realize that you are entitled to your opinion, but I question on what you base your opinion? and wonder why you would go to see the movie in the first place? To the 26 000 people like me who gave it FIVE stars - I hope you are anticipating Parts 2 and 3 as much as I am! This rendition of the story was exactly what I had in my head some 30 years after first reading Tolkien`s great works of literature. Peter Jackson`s direction was RIGHT ON ! The LOTR series will go down in film history as one of the THREE great trilogies [ the others being The Godfather, and Red, White and Blue!
July 26, 2002
It was so fantastic that I was led to believe that I could actually be there. It left me feeling lonesome for the scenery long after I left the theatre. I really think that this type of movie was generated for viewing by all family members with everyone leaving the theatre feeling rather "touched" You earn my highest approval that any movie can earn. Love you`s all for making such a hit for the year 2001. Thanks.
July 26, 2002
THIS MOVIE WAS OKAY.......A LIL BORING
July 25, 2002
Wonderful, I can`t wait for the next episode.
July 24, 2002
this movie is fun
July 23, 2002
this movie is fun
July 22, 2002
This movie sucked. It left me feeling empty.
July 21, 2002
Wow, that movie was very thrilling!!!!!! It was sooooo good I can`t wait to see the other two!!!! It kept my friend and I at the edge of our seats for the whole three hours!!! Orlando Bloom and Sean Bean are soooo hot!!!!!!!
July 18, 2002
movie of the century,amazing,i give it 5*
July 16, 2002
Needed an ending!
July 16, 2002
This is like the best movie i`ve seen and I can`t wait till the movie comes out.
July 14, 2002
i cannot wait until they release this film on dvd.
July 14, 2002
I love this movie! I thought it was the best movie of all times! Everyone is complaining that it was too long and how they skipped parts, well, yeah! They originally made the whole book, but it turned out eight hours! How would you like to sit through that? I think we should stop complaining and just be thankful for such a great movie!
July 13, 2002
Definately a movie masterpiece! I`ll be enjoying this film over and over again.
July 11, 2002
ITS SPECTACLUAR. My Favourite movie of alltime Since Citizen Kane.
July 11, 2002
i can`t wait for the next one
July 09, 2002
It is a majestic fantasy...absolutely flawless in every way...don`t rent the dvd...GO BUY IT INSTEAD!!!
July 08, 2002
Great movie. I`ll see it again and again.
July 08, 2002
3hrs. i can wait that long for a movie to start!! PEOPLE take it from me BUY THE M-O-V-I-E!!!!!!!!!!!!!!!!
July 08, 2002
Simply the best movie from visual effects, performances, story, scripts, and music. I wished it wouldn`t end and can`t wait for more.
July 07, 2002
It was WAY TOO LONG!!! I hated it.
July 07, 2002
best .(period)
July 07, 2002
I loved it it is the best movie in the world!
July 06, 2002
This movie deserves all the credit it is getting and more.
July 06, 2002
Best movie please and can you please send me everything you can about Lord Of The Rings The Fellowship Of the Ring
July 06, 2002
BEST MOVIE EVER
July 05, 2002
IT SUCKED SOOO MUCH!!!!!!!
July 02, 2002
I like how they didn`t do alot of changes from the book. I hope the rest of the movies are as good....The scenery was amazing!
July 01, 2002
I loved it! I can`t wait to see the 2nd and 3rd movies.My favorite character was Legolas, OF Course! He had the best fighting scenes.
June 28, 2002
It was one of the most intruiging movies I have seen in years. I have to own it when it comes available.
June 26, 2002
best movier ever seen and best actors!!!!!
June 26, 2002
This is an awesome movie. The books really good too, except they`re REALLY REALLY LONG. But the movie provides 3 hours of thrill and enjoyment. It`s AMAZING!
June 26, 2002
i think that this movie was far better than big fat liar who agrees with me her?****
June 23, 2002
Best - Movie - Ever