The Maze Runner - User Reviews
Thank you for rating this movie!
Read your review below. Ratings will be added after 24 hours.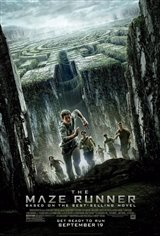 ---
Please rate movie 1 to 5 stars
Showing 1 to 47 of 47
February 24, 2018
what i realize is actually funny with some of these bad reviews is that some people must've been sleeping for 90% of it because it is actually amazing. the actors are all great, working in an environment like this and not mentioning being scared of a creature that would later be added into scenes using digital effects. the film is amazing and so are the other two, with a great plotline that some people obviously don't pay attention to. I'm heartbroken as a young teenage girl who belongs to this fandom as if it were my mother, that the film series has ended.
February 10, 2018
The plot of this movie makes no sense. Probably the books it is based on make zero sense too. I don´t think that books which make zero sense should be filmed. How exactly killing teenagers in the huge maze solves the problem with the virus? How exactly was the maze built in the devastated world where people are not able to repair basic infrastructure and normal buildings? ARE YOU KIDDING ME? I know it is aimed mostly at teenagers but it is an insult towards any teen with a brain.
December 14, 2014
funny to see people writing a review on this movie as "I don't know what I am expecting". But I expect to spend my money watching a really well made movie with good story, actors and action. This is what I expect as a good movie. For sure, this one is definitely not.
December 14, 2014
It is shame to see people are making this kind of low budget movie to get people's money. We should stop watching this meaningless movie because we are also wasting our own time. Not even thinking of buying a DVD later as this movie has no story, no good actors, no beginning and also no ending. You will walk out from the movie and asking yourself why you are wasting your time and money and gain nothing.
December 14, 2014
worst movie ever, don't waste your money and time. some reviews are 100% right, this movie worth nothing but your time is priceless.
December 10, 2014
I did not know what to expect, but I really enjoyed this film. I will definitely buy the DVD.
November 06, 2014
oh my god, what is it talking about.
October 31, 2014
don't know why someone keep asking people to watch this movie but can not tell how good the movie is.
October 28, 2014
the cast ; kid and teen - $50.00 a day make up : $10,000.00 back ground : $0 story : none special effect : $10,000.00 ticket to watch : $12.99 your time : Priceless
October 28, 2014
this movie is soooooooooo goooooooood, you should watch it
October 27, 2014
the best movie, go to watch it now. don't me why.
October 25, 2014
Good movie to spend 2 hours with your love one as she only pay attention to me, we did have good time as no one around.
October 25, 2014
your brain will not working because you are falling asleep.
October 25, 2014
go watch now
October 25, 2014
This is so amazing !! I feel bad for everyone who just could not get it.. must have been really hard on their brains.. since this obviously requires some concentration to watch !! The movie was great, action packed, and mysterious, I would love to see it a second time !
October 24, 2014
save your money
October 23, 2014
Amazing! My family loved it and we went to see it twice. There's never a part when its boring. Its pretty scary though.
October 21, 2014
not for kid, not for teen, not for adult, not for everyone.
October 20, 2014
wow!!!!!!!!!!!!!!!!!!!!!!!!!!!!
October 18, 2014
We were surprised that only five persons in total are watching the film that night. But we are not surprised 15 minutes after the film is on. It was really bad, we didn't wanted to ruin our night and we left instantly.
October 18, 2014
A fantastic vision of a dystopian future. The first of 3 parts. I can't wait to see what comes next. I feel sorry for those that didn't get it. Not everything can be See Spot Run or Michael Bay. Sometimes you need to keep your brain and not check it at the cinema entrance.
October 16, 2014
Continue to the last review, can I give minus 10 stars to this movie?
October 16, 2014
Me and my girl friend making a big mistake seeing this movie. When we see the reviews afterward, we totally agreed with all the 1 star comments as we really don't know what the hell this movie is talking about but I did sleep well 10 minutes after it started. I don't know why one review saying he love the ending but in fact my girl friend told me that there was no ending. You just see those kids running here and there for no reason, you also wonder how they can survive there for 3 years with no food and water. This is a very low budget film as the cast and the story are sooooooo soooooo weak. Don't even expect you could catch the meaning of the story as there are no story. Anyway can I
October 15, 2014
Horrible cheap movie, how can this put in Cinema. I will not see it even it is free.
October 15, 2014
this is a really good sleeping pill, will make you fall a sleep instantly.
October 14, 2014
Weak see thru plot...the big yawn!
October 13, 2014
I have to say, the book was 1000% better but the movie is actually not that bad idk what you're all talking about. The actors were not really good choices and a few things were different but it was still a good movie to watch.
October 13, 2014
Terrible movie, people should look at the true review before they go to see this movie. This is be voted as the worst movie ever put on the cinema because you are really screwed by what you have seen compare to what you have spent. The most important part is you are totally wasting your time.
October 12, 2014
please give me the option of 5 to minus 5, this should be minus 5 instead.
October 08, 2014
cheap movie, no story, no ending, no surprise, no explanation, gain nothing when you walking out from the cinema but you will just saying to yourself how stupid you are spending your precious time and money watching this no nothing movie.
October 08, 2014
It had a message and the scene was interesting however it was delivered by Hollywood language which is shallow and sometimes fake... It could have been made way much better... It wasn't as bad as some reviews.
October 05, 2014
when you watch the movie trailer, that is all the best part of the movie.
October 05, 2014
worst movie ever
October 04, 2014
I do not know what this movie is talking about, it is so boring and it make me fall a sleep. do not spent money and time.
October 04, 2014
don't expect any exciting or entertainment, absolutely waste of my time and money.
October 03, 2014
It was incredible! I think they choose the best cast for each characters and they put in all the important things! I can't wait til the next one!
October 02, 2014
It's Lord of the flies with CGI monsters.
October 01, 2014
It is totally a waste of my time and my money, the movie does not make any sense at all and it end with no explanation of what is going on but just saying go to "part II" of The Maze Runner. This really pissed me off because I have been sleeping for almost two hours just to know why they were trapped there. Nothing make you jump to the edge of your seat as I was misled by the initial reviews and I found out all those are not truth. This is the most boring film that you could see in your life. It is not even close to those low budget movie that you could put it to the TV show for you to watch for free. After all, I bet you that you will say to yourself how stupid you are spending $13.00 a
October 01, 2014
not PG as tribute has posted....more PG13. Too old for younger viewers..Good for teens and adults.
September 29, 2014
absolutely "0" star for this piece of shit movie. I will not even buy a $1.00 CD if it is available later.
September 28, 2014
good movie well worth seeing.
September 25, 2014
Absolutely a really fun movie. I was on the edge of my seat several times. The story is great and the idea behind the movie is excellent. Loved the ending.
September 21, 2014
a=mazing movie. it's definately a see again.
September 21, 2014
We were on the edge of our seats the entire time. The action was great, the acting was very good and definitely kept us intrigued and entertained.I am excited for the sequel.
September 20, 2014
Really good movie every on should watch they should make a second one
September 17, 2014
Best movie ever