Underdog - User Reviews
Thank you for rating this movie!
Read your review below. Ratings will be added after 24 hours.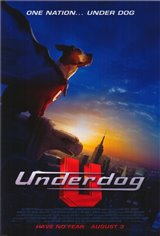 ---
Please rate movie 1 to 5 stars
Showing 1 to 19 of 19
December 26, 2007
Loved it. Just sat with my grandsons 6 and 4 who were glued to screen.A few parts that were sad yes but without those it would a been too syrupy.A lot of kids with only single parents would associate themselves to the theme.5 stars all the way.
December 12, 2007
It Was A Suprising Good Time
November 14, 2007
Very cute little film from Disney. Good film for kids and adults. Highly recommended!
September 29, 2007
I love movies & I love Disney. But when I saw "Underdog" for my birthday party, I discovered that they are lots of sad parts in it. That's why I rated it, 2 Stars.
September 17, 2007
It Was Very Good. Jason Lee Was Awesome
September 10, 2007
Not just the greatest superhero movie EVER, it inspired me to become the filmmaker I am today!
August 22, 2007
My Kids cried when it ended, they refused to leave the theatre they loved the movie so much. Good job Hollywood.
August 15, 2007
My girlfriend and i went to see this and we are both dog lovers and when this comes out on dvd, we're gonna let our dogs watch it, because they'll love it too, just as we did.
August 13, 2007
Way better than I expected. I'd heard some bad things about the movie but went anyways. It's actually quite funny and the cg is well done. Great movie for kids or if in the mood for a simple fun tale.
August 10, 2007
My favourite film of the year so far.
August 07, 2007
It was amazingly funny and entertaining for everybody. Even my mom loved it! GO UNDERDOG!
August 07, 2007
Fun movie!
August 04, 2007
Action movie of the year!
August 03, 2007
5 STARS!!!!!
August 03, 2007
Fast, funny, and action-packed! Jason Bourne has nothing on the charming UNDERDOG!
August 03, 2007
A real treat; we need more movies like this one.
August 03, 2007
I can't believe they pulled it off!
August 03, 2007
The BEST movie I've seen in a LONNNNNNNG time!