We Are Marshall - User Reviews
Thank you for rating this movie!
Read your review below. Ratings will be added after 24 hours.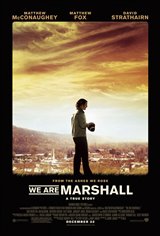 ---
Please rate movie 1 to 5 stars
Showing 1 to 33 of 33
December 04, 2012
an emotiknal rollercoaster of a film. Strong performances keep the movie together
February 22, 2008
Moving, excellent casting, something for everyone, not just for football fans
November 19, 2007
The movie was respectful of a true story both tragic and triumphant. A must see!
January 16, 2007
Wow - even if you have just a little bit of interest on Football, and enjoy a good movie ased on a true story that has a hard core story - it moves you and don`t mind the emotional parts - EXCELLENT!
January 13, 2007
I thought I would be more touched by this movie, it being based on a true story. You have to like football I think, even just a little to appreciate it and I do not. The acting was mediocre at best. 3 stars.
January 10, 2007
FANTASTIC! Emotion, story, football, humour, great acting, football, heart, heartache, football, triumph, anguish and football...you name it, this movie has it! A DEFINATE MUST-SEE! I was a Matthew McConaughey fan and football fan BEFORE this movie came out. This film justifies both! GREAT MOVIE! I`ll be first in line at the video store when it comes on sale. GO SEE IT! :)
January 08, 2007
Great movie...makes you realize that if something goes bad you will be able to pick yourself up again.
January 07, 2007
This movie is absolutely fantastic... although matthew macoughnahay (or w.e) had bad colur cooridination and his clothes never matched!! lol but i thought it was one of the best movies of the year... Fantastic!
January 07, 2007
Wonderful movie. The two Matthews did such great acting jobs. A movie I finally can take my family to see and every one of us enjoyed. We Are Marshall!!!!!!!
January 05, 2007
This movie seems to be under-rated like `Cinderella Man` was. Excellent movie, the best in years.
January 05, 2007
Best Football stroy ever!
January 03, 2007
Amazing movie! this movie shows how much football can meen to people.. amazing!
January 03, 2007
AWSOME MOVIE!!!!!!!!!!!!!LOVED IT
January 01, 2007
Well, Matthew Fox was very good and Mattew Macohgnuyrhg was also very good:) It brought out the true meaning of the real life situation and brought me to brutal tears!!!!!!!!!!!!!!!!:(:(:(:(:( A must see....... go Dane Cook!!!!!!!!!!!!!!!!!!
January 01, 2007
who ever said they didnt focous on the people surounding the tragity and focoused on football too much you`r an idot no one would watch a movie that was all about the tragity because its boring people that like football go see this movie because its ABOUT FOOTBALL only and dumb ass would go see it expecting to have it focous around the people who lost there family all though it should show them but not focous the whole movie around it. It was a great movie and a great story go see if you have the chance.
December 30, 2006
Absolutely fantastic movie. I cried form beginning to end but I loved it. Very moving. The acting was wonderful from everyone. One of the best movies in a while. As for the person who called it predictable: its based on a true story, it`s not supposed to be a shocker.
December 30, 2006
This was a story that needed to be told but I was a bit disappointed in the movie. There was too much focus on football and not enough on the lives of the people trying to cope with this major trajedy.
December 30, 2006
EW!! crap. after uve seen one football movie, uve ween them all. just got see casino royale, there are more plane crashes.
December 29, 2006
A nice surprise. I wasn`t expecting much. It was an excellent movie that captured what a small American Football goes through when they not only lose at football but lose most of their entire team through a tragedy. Catching up with the real characters at the end was a good touch. Bring some kleenex.
December 28, 2006
Probably one of the best I have ever seen remides me of the movie Radio.Great job!!!
December 28, 2006
A little slow, but I really enjoyed it. Matthew Fox was fantastic! Even though it was sparked by a tragic event, the film was uplifting.
December 28, 2006
It was ok but to predictible
December 28, 2006
Just one of many football movies this year.
December 28, 2006
Stunning... I can`t imagine a whole team killed. A must see if you are interested at all in sport movies. Espically this one since it is based on a true story.
December 27, 2006
Haven`t we seen enough inspirational football movies? First Invincible, Gridiron Gang now this? Americans.
December 26, 2006
Great movie
December 24, 2006
Great movie but probably not a `must see` right now with so many other good movies out.
December 23, 2006
AMAZING!! REALLY SAD! BUT GETS HAPPY!! SIMPLY AMAZINGGGGGGG
December 23, 2006
this was the worst movie ever do not see it!!!!!!!!
December 23, 2006
REALLY AWSOME MOVIE AND WORTH SEEING!!!!!!!!!!!!!!!!!!!!!!!!!!!!!
December 23, 2006
AWSOME GREAT ACTING BY MATHEW FOX!