Wind River - User Reviews
Thank you for rating this movie!
Read your review below. Ratings will be added after 24 hours.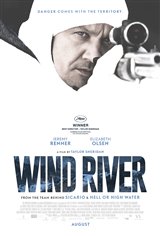 ---
Please rate movie 1 to 5 stars
Showing 1 to 50 of 81
January 15, 2019
great movie! And great actorship!
August 17, 2018
Very good I've seen it twice now and I can't believe that it was a true story I didn't catch that until my second time a very good murder mystery
November 27, 2017
Loved this movie so much. Rarely can I sit through an entire movie let alone watch it TWICE. That good!!!
November 11, 2017
This has just become the best movie I have ever seen
October 31, 2017
I agree with the previous reviews. This was one of the best movies I've seen all year. Suspenseful story telling, great acting and with no CGI. Maybe movie sleeper of 2017.
October 15, 2017
Best movie I have seen in quite some time. Jeremy Renner is good in this! Great story line.....
October 15, 2017
Great movie, full of suspense. You will appreciate it if you are intelligent and mindful of American issues.
October 13, 2017
Great movie
October 12, 2017
Great story; dark, moody and well acted. Only one cheesy line in the movie, "why don't you come hunt one for me " referring to a human predator. A cold, lonely and desolate existence has a tendency to make for a perfect environment for bad things to happen, and they do.
October 12, 2017
My wife and I made it about half way through it before I took out a pocket knife and we discussed slitting our wrists. we walked out. OMG, so boring, class C acting and laughable to think someone paid big money to have this movie made. Total waste of money if you go to the movies to see something interesting.
October 06, 2017
Definitely not ready for prime time.
October 04, 2017
One of the best sleepers of the year. Well acted. Interesting plot. Action explodes upon you. Totally unexpectedly engrossing. Loved it.
September 30, 2017
Jeremy Renner is quite masterful - he's so, soooo underrated! Native American Performers were terrific. Liz Olsen, not so much. Riveting action... Grieving scenes much needed in our realm, as is education on the shocking prevalence of violence against women, no less Native American women!.
September 29, 2017
A great movie that keeps your attention though out the whole movie and looking for the ending which is unveiled only at the end.
September 24, 2017
An excellent movie, a lot to learn. I would recommend it. The content is sad but, it provides knowledge.
September 24, 2017
excellent on the edge of your seat movie. Great acting. Try to see it without knowing too much about the plot. You won't be disappointed.
September 23, 2017
This was fairly well written and well acted. Good filming and sensitive to some issues re: Native American and American interaction especially with regards to resource extraction on or close to Native lands. Some may think its not realistic with how the goons and out-camp workers were portrayed. But I know better...it can be exactly like that! Although I don't think a incident between goons and enforcement like the one portrayed in the movie could ever happen in North America, it probably has happened in other countries...and who knows in the future as resource scarcity becomes an emerging issue. I would watch it again and recommend to a friend. I think any CO's in Canada who go see this could learn a lesson.
September 23, 2017
I just saw this movie and was pleasantly surprised. I think this is one of the best movies of the year. The plot was outstanding! The performances were so well done by all involved, I could see a great many nominations and awards coming out of this one movie. Go see it!
September 22, 2017
Very good movie! Worth seeing for sure. Realistic as hell .Worth the money and time to see it.
September 22, 2017
Great movie with a special message!
September 21, 2017
I am a Tony Hillerman fan. This movie had that flavor.
September 21, 2017
Whined River is just that. If you haven't gone to see it yet, then you have something to give thanks for during the holidays.
September 20, 2017
Great movie. The fellow who came with me said he didn't expect it to be as good as it turned out to be. Really worth going to see, but the content is a sad reality. We have to do better. Worth all 5 stars.
September 20, 2017
The movie is meaningful and impactful. The message is short and clear and actually brings awareness to issues we as a society often neglect. very well done.
September 20, 2017
Definitely the best movie of 2017. A very real and relevant story, highlighting a sad truth about our society. Very well done.
September 20, 2017
I'm surprised how much everyone seems to love this movie. Realistic and gritty, yes. But if watching that rape scene doesn't disturb you to your core, that makes me sad for our society. I'm surprised more people didn't mention it
September 19, 2017
The BEST movie of the year. It held my attention every minute right to the end. Great acting. Would love to see Jeremy Renner in more good movies. He was very good.
September 16, 2017
No words can describe how powerful and raw this movie is. It is brilliant all around. Although audeince members should be warned, this is not a movie for the faint of heart, though that is part of its beauty. Highly recommended.
September 15, 2017
The acting was great. Well done in my opinion.
September 14, 2017
Good movie, one of the best movies this year. An opinion from someone who sees a movie every week.
September 14, 2017
Jeremy Renner was outstanding in this movie. I'm glad someone has brought this subject out in the open. Thank you.
September 13, 2017
Very thought provoking movie . Outstanding acting , story line and scenery.
September 13, 2017
Movie is original, surprisingly action packed and emotional. No cgi -realistic. Excellent movie.
September 13, 2017
5 Stars Best Movie I've seen in a long time!!! Great acting. Jeremy Reimer deserves an Oscar nod for this one! Great story. Was on the edge of my seat the whole time!!! Also showcases the struggles Native Americans face especially missing Indigenous women! Got me right in the heart! I would see it again !!!! A must See!!!!
September 12, 2017
Great movie. Keeps you on the edge of your seat.
September 10, 2017
Acting, scenery all great
September 10, 2017
Whats all the complaints about the sound. Im 63, saw it a rinky dink theater in small town BC and had no problem. Put your popcorn down get up and tell the manager to turn it up. Still an award winning movie best and one of the best shoot out scenes. Only complaint it was set in an enviroNment that was supposed to be killing cold but looked like a nice spring day in most shots. Ie. Could see no ones breath.
September 10, 2017
I really enjoyed this movie. This is probably one of the best face to face shootouts since Ok Corral. Acting by Olsen and Reiner was excellent. For sure it will get a nod for Best Picture. Portrayal of how indigenous peoples are treated especially its women is sad but true. Only unbelievable point in this movie was that it really looke like a warm soring in the mountains not the -50 it was portraying.
September 10, 2017
So, so disturbing to watch. Violence against women, really an ugly portrayal of humanity, though not inaccurate. Would definitely not recommend
September 09, 2017
It's a great movie with plenty of talent, suspense, some humour, but sadly true events. Graham Green was great as usual and Jeremy Renner played his role like a true wildlife agent. I highly recommend seeing this movie.
September 09, 2017
Imagine Fargo with no humor, plot, decent plot, or acting. Now toss in grieving people, and perpetually cloudy skies, that's Windy River. Wait for the paperback edition on VHS, don't waste money on the DVD one.
September 08, 2017
Don't miss this movie!!!! Should be nominated for an Academy Award, I'll be surprised if it isn't. ALL actors were at their BEST. I'm going to see it again.
September 08, 2017
Very good movie gripping scenes much suspense one of very few movies worth a second viewing
September 08, 2017
Excellent scenery with realistic story, keeping you on the edge of your seat the whole time. Would see this again in a new york minute !!
September 08, 2017
It was good because, but hard to follow in the beginning.
September 07, 2017
It was a good movie. Worth seeing.
September 07, 2017
Excellent film. Rating this a five star. If there was one thing about this story I needed to find to be upset about it's the role Jeremy Renner plays as U.S. Fish & Wildlife agent. His full time job seems to be hunting and killing predatory animals --- something that, in my opinion, a Fish & Wildlife agent should be trying to preserve rather than annihilate them. After all, this IS wide open country. If wildlife can't be allowed to live naturally there, .......then WHERE??? This is supposedly a true story. If Fish & Wildlife agents are being paid to harm our planet in this way, then I think our hard earned tax money should be better spent on more productive and beneficial means to our environments. Aside from this beef, go see this movie. It won't disappoint.
September 07, 2017
Oooops I forgot to check off the five star rating. lol Deserves TEN stars out of five.
September 07, 2017
Oh my, I don't know why this isn't rated as a FIVE STAR movie. Everything about this movie is awesome, from the talented acting to the landscaping. I think this one should be nominated for an Academy Award. Don't miss this.