X-Men: The Last Stand - User Reviews
Thank you for rating this movie!
Read your review below. Ratings will be added after 24 hours.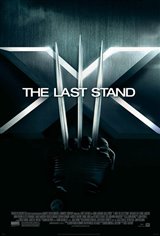 4.13 / 5
User Rating
Based on 8036 votes and 1275 reviews
---
Please rate movie 1 to 5 stars
Showing 1 to 50 of 1275
May 14, 2014
The last true X-MEN film with the original cast, masterfully directed by Brett Ratner.
September 23, 2009
really good movie.
May 28, 2009
One of the best movies I have ever seen. This movie is a true masterpiece.
April 06, 2008
Great action and cool effects but what brought it down from 5 was that Prof. X, Jean and scott died. and Mystique and magneto losing their power nooooooooooooooo but on the whole very good
January 26, 2007
I love this movie! I have to say that the way they introduced so many more characters...let`s hope it won`t be the last one!!!!
December 19, 2006
This movie was awesome! X-Men is my favourite Marvel movie trilogy. It was great. I thought that this one was the best, so far. Brett Ratner did a good job. I sure hope they`ll make a sequel!
November 29, 2006
I loved this movie, and Hugh Jackman, totally sexi, like always. This movie was awsome, and a total must have:)*****
November 28, 2006
I love this maovie and hugh jackman is sooo hot. It would be hard to find a better wolverine. I`m glad that they didn;t change the actors all that much.
November 14, 2006
Not good... I love the X-Men comics and singer`s movies... but this latest interpretation is weak... With redundant dialogue, poor character development and unfocused plot... very disappointing. Magneto seemed to be the only good thing about this flick. Throwing new characters in just for the novelty of it, with no development, is just flash-in-the-pan. Pheonix with no "pheonix"? Wolverine was not in character either... too weepy. Character`s often are making comments that are not necessary or out of character, almost as if it was just for the benefit of a much younger "toddler" audience. Not very intelligent. Juvenile. Please read t
November 11, 2006
I LOVE THIS MOVIE!
November 11, 2006
this movie deserves a 4th one!
November 06, 2006
Action, action, action with a little bit of .......action. Awesome movie! Great special effects! If you didn`t watch it on a big screen, you`re missing out.
October 23, 2006
I thought this movie was way cool. The action was really entertaining. I loved the new mutant ideas like the wing guy (I thought he should have had a bigger part)and juggernaut. This movie really surprised me by how much it`s improved but i`m not sure the Jean-going-evil part was the best idea(but i`ve never read the comic books so these comments are just based on the movie only). All in all I think it`s definately worth seeing, the best X-men movie yet!!!
October 14, 2006
This movie was absoloutely fantastic! The graphics were great and the storyline was pretty good as well. The only problems were the ending (it was a bit of a cliffhanger) and the sappiness. I thought that there was a bit too much crying especially coming out of Jean Grey and Wolverine. 4 stars
October 11, 2006
I thought it was a great movie to say the least. Of course wolverine was awesome along with the rest of the cast of charsters. Though Hugh Jackman was really standout, i belive he could play any role and exceed in it.
October 11, 2006
I`m not sure if I liked Brett Ratner`s style more than Bryan Singer`s. But there is something about X-Men The Last Stand that I didn`t like. I can`t quite put my finger on it though.
October 10, 2006
Awesome. Can`t wait until they start making the movies to show what happened prior to the first X-men. You know they have two ways to go on this. Either go forward in time or reach even deeper backwards in time. They also have the option of making a movie from the other point of view of the bad boys and all the things they have going on. This is not over folks. Not by a long shot. XMEN LIVE! And will do so for all of time! Cause you can take down a mutant but there will always be another to replace them. The future is unwritten and this is where XMEN begins. TV, Webisodes, Heros, it`s all related. SURPRISE!!!!!!!
October 10, 2006
Liked the twists in the story where main characters are killed off.
October 10, 2006
This movie is AWSOME man. So COOL. SO SICK. I LOVE THIS MOVIE. FROM SLAYER.
October 08, 2006
Way to take a good idea and completely botch it! It`s like they got bored of all the original characters so they decided to kill them all off or de-mutant them and then bring in a whole bunch of insipid characters without taking the time to develop any backstory or any screen time! (ie. Angel/Kitty/Collosus/Spike(who is actually supposed to be Storm`s son)etc etc etc)
September 17, 2006
I love it.
September 11, 2006
i want my money back for the time i wasted at that theatre!!!!...AND ALSO THE MONEY FOR THE TICKET
September 09, 2006
it rocks
September 04, 2006
Great movie, loved it!!! Non-stop action!!!
August 31, 2006
It was the way I knew It would look like, the characters were portrayed perfectly and the story line was awesome. Can`t wait for the next one.
August 31, 2006
As much as I like X-men, this hsould be their last movie..unless you just want to make a TV series again??? I would love to see the reruns and compare modern day man`s imagination over the original creator.
August 30, 2006
Great entertainment, enjoyable from beginning to end!
August 30, 2006
I hope this was not "The Last Stand" an excellent movie with great special effects, there has got to be another one in the works.
August 29, 2006
Well rounded movie, good end to the trilogy, but the movie was very fast paced and on a scale to large for one movie to encapsulate. With hundreds of new characters and special effects all over, it was hard to really appreciate it all, especially with the fact that that so many characters had to share the screen. Definietly dissapointed with the treatment and lack of emotion with the deaths of crucial characters, and lastly, Juggernaunt is not a mutant...his powers are magical. Details do make the difference!
August 29, 2006
It would be a good rental- there were some holes and I was disapointed that they didn`t use all the characters they could have to their full potential.
August 29, 2006
Awesome movie, great special effects, I can`t wait for the next one.
August 28, 2006
dissapointing in many ways, exciting in others. They need to learn to focus on a few mutants not keep throwing you new ones just because they were popular in the xomic and/or tv show. Kitty pride was a nice addition but felt relaly out of place as one of the team. unfocused movie that really needed to be tightened up.
August 28, 2006
I enjoyed the movie. Look forward to another X-Men movie. Keep them coming!
August 28, 2006
Quite enjoyable, especially the heightened strain of good versus not-quite-evil - Magneto`s an interesting character. Not quite as inspiring as the first one, but certainly a worthy successor.
August 27, 2006
it`s just okey
August 27, 2006
Excellent special effects, a great sequel!
August 27, 2006
It was hella awesome. I can`t wait for part 4...I hope everyone returns and more characters come aboard.
August 26, 2006
Action strat to finish
August 26, 2006
Fabulous movie! I loved the twists and unexpected turns! Definite wow factor!
August 26, 2006
I did not enjoy the last of this trilogy. Even though there was alot of action I found that too much was left unresolved. The story line introduced alot of new characters as well, which made it a bit hard to follow.
August 25, 2006
There wasn`t alot of character development, and their were lots of other mutants that they could have showcased.
August 25, 2006
awesome, excellent movie
August 25, 2006
tHIS WAS DEFENETLY A MUCH DARKER CHAPTER, HOWEVER THE STORYLINE WAS SOLID, THE SPECIAL FX SURPASSED THE PREVIOUS 2 X-MEN, AND THE ACTING WAS MUCH STRONGER BY ALL CHARACTERS.
August 25, 2006
The movie was a disappointing let down after the first two movies.
August 25, 2006
i thought it was action filled and amazing i love the X-men all 3 of them but i think this one takes the cake yes people say hey they are trailing away from the original comic book story but who care if they actually did it like the comic books or cartoons then i dont think that it would as great as it was because everyone already saw the cartoons and read the comic books so i think a change is exactly what we needed good job!!!
August 25, 2006
I loved it! It was a great way to finish(?) the story!
August 25, 2006
I thought it was good. I feel that it was a nice tie into the other two films. Although a differned director than the others, still a good job. It was good to see how the characters developed.