X-Men - User Reviews
Thank you for rating this movie!
Read your review below. Ratings will be added after 24 hours.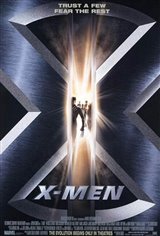 4.18 / 5
User Rating
Based on 1685 votes and 49 reviews
---
Please rate movie 1 to 5 stars
Showing 1 to 49 of 49
July 02, 2017
Great comic book movie!
July 20, 2014
The best X-MEN yet! We had a terrific time!
December 18, 2007
looking foward to X-mens return.
July 21, 2007
Halle Berry was so hot as Storm.
June 07, 2007
grate movie i love the there osome
October 09, 2006
The Best Marvel Movie Ever. God Bless Storm!!!
September 30, 2006
the best movie ever
August 27, 2006
I really liked this show Patrick was great. It was strange to see himon another show besides Star Trek.
August 27, 2006
"Hey BUB, I`m not done with you yet" Best line of this movie. This movie freakin rocked, Hugh Jackman, Patrick Stewart, Famke Jansen all rocked in this movie. Excellent, Highly recommend Comic book adaptation, full of actions and good characters. A Must see
August 20, 2006
X-men was a very good movie! I would watch a lot if i owned it. The cliff-hanger ending was very interesting. Aloha!
July 13, 2006
like the previous one`s better.......
July 01, 2006
all the xmens totlay rocked thats all im gonna say.
June 17, 2006
Got to say it was worth the money to get in. If you are a follower of th comic you might not like it though. Still loved it! Hugh Jackman can`t get enough of. Great action scenes and special affects.
June 09, 2006
I love these characters, something for the Boys and the girls in these movies
June 03, 2006
I cannot choose which one I like the most. X-Men or X-Men 3. I loved the first one because Wolverine is my favorite and I liked how it was mainly about Logan and Rogue. When I saw X-Men it was my most favorite movie for the longest time. I just loved the storyline and how there`s was alot of character development, that`s one of the things I liked most about X-Men. I would have to say the first one is my favorite.
April 25, 2006
Are you kidding!!! X-men rules. About time too, how much longer did we have to wait for it to come in a movie? Cannot wait to see Dark Phoenix, she is my favorite
February 05, 2006
THIS MOVIE. HA THIS MOVIE IS LIKE ONE OF THE BEST MOVIES OUT THERE. THE STORYLINE IS SO GOOD AND THE ACTION IS SLICK. THE BEST ON THE SCREEN IS HALLE BERRY. SHE LOOKS SO POWERFUL AS STORM. SHE SHOULD`VE BEEN GIVEN MORE SCREEN TIME THOUGH.
April 28, 2005
I thought that the movie wasnt bad it had great action so i rated it around a 5 and a 4
November 19, 2004
NOT AS GOOD AS I ANTICIPATED.
October 19, 2004
IT IS THE BEST AND MY FAV IS Rouge ( Anna Paquin)
September 16, 2004
The only thing that is better than X-men is X-2 united!!!!
September 05, 2004
This movie exceeded my expectations. Great movie! Hugh Jackman is the perfect Wolverine!
June 18, 2004
I love X-Men because Shawn Ashmore is in it and he is the hottest guy I have ever seen and ever will see. Shawn Ashmore, I love u. Keep up the awsome acting and please never change. Your biggest fan, Sara O
June 13, 2004
X men is one of my favorite movies of all time!!
February 18, 2004
X2 roxs it was the best movie ever, i lov Bobby Drake played by Shawn Ashmore! He did some really good acting. Also he was soooooo cute!!!!!
February 17, 2004
This is a good movie and is fun.
February 07, 2004
X men rawks
February 03, 2004
it wasa the best movie ever well i like any movie with shawn ashmore (well he is the 2nd hottest guy on the planet)
January 30, 2004
this best movie since the dark crystal
December 22, 2003
I like this movie but the second one x2:x-men United is way better. and Aaron Stanford is soooooo hot.
December 10, 2003
best movie I have seen since StarWars came out
November 04, 2003
loved it
October 15, 2003
As a long time X-fan, I`d have to say that despite a few small inconsistancies with the comics, it was a great filmm. Fun, exciting, funny at times, and even thought provoking, which is what the X-men are all about. What makes a person? Their DNA? Their Friends? Or is it how the public defines them?
July 08, 2003
Great fun, loved seeing the comic brought to life.
June 20, 2003
It was the best movie ever i love Anna Paquin
February 16, 2003
The only thing wrong with X-Men was that is was a bit short and it had no gambit in it. Other than that the movie was well developed and had an awsome plot. Look out for the second one (X-2) with featuring Gambit!
February 02, 2003
X-men has been one of my favorite sci-fi movie cartoon of all times. I have watched the first cartoon version with the yellow and blue costumes with Bishop etc.. the movie was excellent. X-men evelution is great also and I cannot waitfor the next movie to cme out and I am looking forward to new epesods of the cartoon x-men evelution.
January 24, 2003
excellent can`t wait for the second one
July 04, 2002
I went to see this movie in the theaters...It was perfect in so many ways, from the plot and to the wise choise picking of actors and actresses that played their roll in the movie very well. Expecially Hugh Jackman who played Logan (Woverine) very will (which I think he nailed the part extremely well) Patrick Stewart as well who played as Professor Xavier and all of the others (Halle Belly who played a very hot Storm.) I just hope Bryan Singer makes more of these X-Men movies and please don`t change the actors and actresses when you do make the next coming films of X-Men. Like how they did with the Batman movies.
May 19, 2002
It was really great! I love the plot! and all the characters!
March 31, 2002
Halle Berry is the best Storm ever!!!Ian Mckellen is the best actor I`ve ever seen!!!He really makes the charaters he plays seen more real then I imagened!!!Wolverine,Cyclops and Toad are so funny!!!Can`t wait till #2 comes!!! I HOPE NIGHTCRAWLER IS IN IT!!! From DANIELLE
March 23, 2002
x-men is a really cool movie!
January 27, 2002
i thought this movie was the best!!! i seen it in the theatre 3 times and own it on video. i have now an obession with x-men and spiderman due to this movie and i CANNOT wait until X2!!!
January 25, 2002
i think x-men is the best action film i have ever seen and i dont care care if nobody likes it or not but iam the best fan out there so that means iam the fan #1 of x-men.
January 24, 2002
The only disappointment was that it didn`t have Gambit. The next one will though. Anyway, I saw X-Men in theatre with my family and I`ve always been a fan. I have all the cartoons on tape and a growing collection of toys and comic books. James Marsden was awesome!!! I wouldn`t mind Beast showing up in the third movie.
January 05, 2002
it was great cant wait for the next two
November 23, 2001
I loved it it was very good movie and i hope that they never stop making it and thanks to all producers for making that movie and i hope that they put more charaters in it
November 14, 2001
Based on the X-Men comic strip which was started in the early 60s, this was the most successful comic book property ever, having sold more than 400 million copies.